China still needs a basic, comprehensive law on its energy industry, said Zhao Xhiaoguang, an official with the State Council at a seminar in Beijing.
Related publication: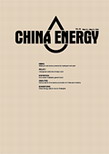 The new law should cover energy strategies, industry development plans, industry supervision and restructuring, resource conservation, environmental protection, renewable sources development, resource reserves and contingency plans.
China has issued some some laws,and regulations in fields including mineral resources, electricity, the coal industry and energy conservation since 1980s...
The full text is available in the November Issue ofC hina Energy. Please visit E-shop for more subscription details.