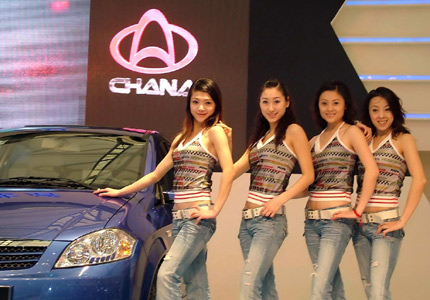 AVIC will hold a 23% stake in the new Chang'an Group.[China Daily] 
China's Chang'an Automobile Group has become the country's third-largest vehicle manufacturer after taking over two automobile manufacturing arms of aircraft maker, Aviation Industry Corporation of China (AVIC) - the biggest acquisition in years in what is currently the world's key automobile market.
The merger deal, announced yesterday, would be made by exchanging stock for assets. The financial details have not been disclosed.
According to the agreement signed yesterday in Beijing, Chang'an Automobile Group, the parent firm of Ford's Chinese partner, Chongqing Chang'an Automobile Co Ltd, will acquire Harbin Hafei Automobile Industry Group and Jiangxi Changhe Automobile from AVIC.
The takeover, between the two State-owned military-turned-civil enterprises, would also involve AVIC's parts company Harbin Dong'an Auto Engine Co, together with joint venture Harbin Dong'an Mitsubishi Automotive Engine Manufacturing Co, and Changhe Auto's joint venture Changhe Suzuki Automobile Co.
In exchange for the assets, AVIC will hold a 23-percent stake in the restructured Chang'an Group. Chang'an Group's parent, China Weaponry Equipment Group, still holds the majority shares.
Shares of the listed companies involved in the asset transaction were suspended from trading before the deal was signed.
The restructuring will add Hafei's annual yield of 400,000 minivans and Changhe's 300,000 units of output, which also includes 600,000 engines combined, to Chang'an Auto, boosting the latter's annual capacity to more than 2 million units from the original 1.5 million.
By the deal, Chang'an has successfully fulfilled the government's consolidation plan of having two or three auto conglomerates with annual outputs of more than 2 million vehicles each.
Moreover, according to statistics released by the China Association of Automobile Manufacturers on Monday, by adding AVIC's auto sales of 381,400 units, Chang'an's sales would touch 1.54 million units for the first 10 months of this year.
That will make Chang'an top Dongfeng Motor as China's third-largest automaker, only behind SAIC Motor Group and FAW Group, with sales in the first 10 months of 2.17 million and 1.56 million, respectively.
"It's also a beneficial deal for AVIC and its transferred auto arms," said Zhang Xin, an auto analyst with Guotai Jun'an Securities Co. "AVIC can now focus on its core aviation business. And, Chang'an Group's large sourcing chain for engines and other parts will ensure a promising future for Harbin Dong'an Auto Engine."
Related readings:


 China's Changan Auto to acquire AVIC's auto assets


 China's ChangAn Auto sales volume up 82% in July


 Changan Auto to show e301 crossover in Shanghai


 China's FAW Car 08 net up 90-120%, Changan down
However, Wang Liusheng, an auto analyst with China Merchants Securities, warned that Chang'an had to pay closer attention to the management of the merged assets and facilities.
The transaction is a milestone in China's fragmented auto industry, as the government had decided earlier this year to encourage consolidation of its more than 100 regional automakers into a "big four and small four" segment, in high hopes of making the industry more competitive with international rivals and in the global market.
In May, China's six-largest automaker, Guangzhou Automobile Corp, the Chinese partner of Japan's Honda Motor Co, Toyota Motor Corp and Italian automaker Fiat Auto SpA, paid 1 billion yuan ($146.48 million) for a 29-percent stake in Shanghai-listed SUV producer Changfeng Motor Co Ltd, becoming the first one to follow the government's plan.
Last month, the No 5 auto producer, Beijing Automotive Industry Holding Co, also tried to expand by taking over Fujian Motor Industry Group's 50 percent stake in its venture as Daimler's Chinese partner in Fujian Daimler Automotive to produce vans.