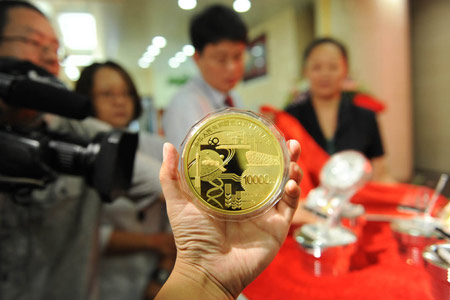 Coins themed on the 60th anniversary of the founding of the People's Republic of China.
The biggest wish for Eric Smith, an English teacher working in Beijing, this year is to snag a set of gold and silver commemorative coins themed on the 60th anniversary of the founding of the People's Republic of China.
As an ardent fan of different types of commemorative coins, Smith has tried every means to purchase this special set immediately after the central bank announced its plan to issue them on Sept 16.
According to the People's Bank of China, the set comprises three gold coins and two silver ones. All together, 60,700 gold coins will be issued with face values of 10,000 yuan, 2,000 yuan, and 100 yuan. A total of 106,000 silver coins will be issued with the face values of 300 and 10 yuan. The coins will be distributed by China Gold Coin Incorporation.
"I am really interested in the gold coins, but almost every salesperson I contacted told me it was an impossible mission," Smith said.
He also visited the stamp and coins market in Madian in northern Beijing, but still failed to get a gold coin.
Smith is not alone in his quest. Wang Hao, a collector of commemorative coins, was also depressed after several attempts failed.
Related readings:


 PBOC to issue anniversary coins


 China cracks down on piracy of anniversary films


 China marks 60th anniversary of CPPCC


 Chinese in Washington DC to celebrate China anniversary
According to Cai Yanan, a manager at Beijing Caibai Gold and Jewelry Co, one of the largest of its kind in the country, the coins are not available to ordinary people.
"We only sell those commemorative coins to our VIP customers whose annual purchase is higher than 100,000 yuan," said Cai. "Even then we can't satisfy everyone because the demand far exceeds the supply."
A small set, with a quarter ounce gold coin carrying a face value of 100 yuan and a silver coin carrying a face value of 10 yuan, originally priced at 3,580 yuan, could now be sold for more than 8,000 yuan.
Veteran collector Xu Tinggui, said the coins have collecting value because of the importance and special nature of the issue.
"But investors and commemorative coin lovers should be aware of the risks of paying too much," said Xu.
Because of its scarcity, the market price for the one-kilogram gold coin has exceeded 600,000 yuan. The 5-ounce gold coin sells for more than 100,000 yuan.