Chinese electric car and battery maker BYD Co Ltd hopes to be a top supplier in incentive programs to boost the use of electric cars in Chinese cities, according to a senior executive.
"The Chinese government supports ten cities to each have 1,000 electric vehicles for public transportation," said Henry Li, general manager of BYD Auto's export trade division.
Related publication: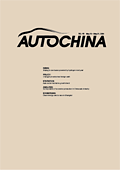 "With this we already have a quite high demand for electric vehicles", he said, adding BYD hoped to supply a big number of e-cars for this program in the coming years. "But there is a lot of competition, so it is hard to say, how many (contracts) we can actually get."
Li said demand for electric cars would first come from governments, taxi businesses and corporate fleets in all markets. "The trend is to go electric, but how much and how long the government will support (the electric car segment) is very difficult to say," he said.
BYD will launch its e6 electric vehicle by the end of 2009 in China...
The full text is available in the September Issue of AutoChina. Please visit E-Shop for more subscription details.