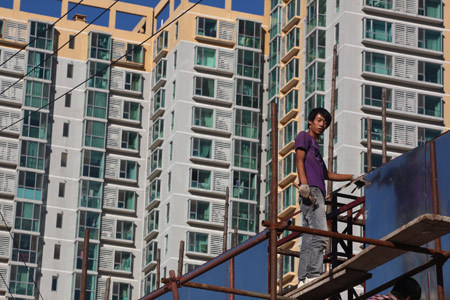 A builder works at Taiyang Xingcheng in Beijing yesterday. CNPC is said to have purchased more than 1,000 apartments for its employees at prices far below market value. [China Daily]
One of the biggest State-owned enterprises has purchased more than 1,000 apartments for its employees in Beijing at prices far below market value, sparking public outcry.
China National Petroleum Corp (CNPC) bought the housing in the Taiyang Xingcheng community on the northeast Third Ring Road in Chaoyang district, according to news site qianlong.com yesterday.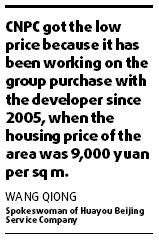 More than 2 billion yuan ($300 million) was paid to buy eight apartment buildings and two underground parking lots, according to the news site.
CNPC bought the apartments at approximately 9,000 yuan per square meter. The apartment buildings' market price is expected to reach 23,000 yuan per sq m, according to the site, which quoted an anonymous official with the community's property developer Beijing Guancheng Zhengye Real Estate Development Company.
The resale market in the same community is 18,500 yuan per sq m, and a 165-sq-m apartment costs more than 3 million yuan, Long Kecheng, an agent with real estate company 5i5j, said yesterday.
"CNPC got the low price because it has been working on the group purchase with the developer since 2005, when the housing price of the area was 9,000 yuan per sq m," Wang Qiong, spokeswoman of Huayou Beijing Service Company, was quoted by the Beijing Times as saying.
"The group purchase was organized according to law and policy, and nothing is wrong with it," she said.
CNPC is China's largest oil and gas producer, as well as one of the world's major oilfield service providers and a global contractor in engineering construction with offices in nearly 70 countries. About 10,000 employees are working for the oil giant's headquarters in Beijing.
Citizens and professionals were unconvinced by the explanation.
"As a big State-owned company, CNPC might have a backroom deal with the property developer to get such a big discount," said Chang Xue, a university administrator who is planning to buy an apartment in the community.
The low price might also be one of the generous fringe benefits CNPC offers its employees, she said.
"It is not fair for other buyers like me," she said.
"I heard before that many State-owned companies give their employees benefits like the chance to buy an apartment at a low price, but it's the first time I saw it really happening," said Beijinger Liu Yanli, a public relations employee.
"CNPC should clarify the group purchasing issue. If not, its silence will cause more questions and controversy," Li Wenjie, general manager of real estate agency Centaline China's North China branch, was quoted by qianlong.com as saying.
Neither CNPC nor the property developer was available for comment yesterday.