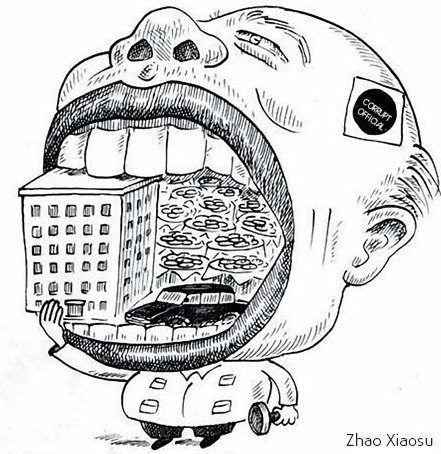 As investigations into the alleged Rio Tinto bribery scandal continue, many executives and officials within China's steel and other industries will be feeling hot under the collar.
With many more expected to be implicated, experts say the arrests of four Shanghai-based employees of the multinational mining giant - including Australian citizen executive Stern Hu - on charges of stealing commercial secrets have highlighted a common business practice that is spinning out of control.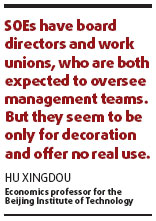 A lack of systematic supervision has been blamed for a "bribe culture" that has flourished in China's rapidly developing economy, while the heads of many State-owned enterprises (SOEs), which still dominate the most profitable sectors, are believed to be its biggest champions.
In the past two months alone, two bosses of SOEs have been severely punished for taking bribes. Chen Tonghai, former chairman of China Petrochemical Corporation (Sinopec), was given a suspended death sentence in July for accepting birbes of more than 195 million yuan ($28 million), while Li Peiying, former chief of Capital Airports Holding Company (CAH), was executed on Aug 7 for taking 26 million yuan and misappropriating 82.5 million yuan.
Kang Rixin, general manager of the China National Nuclear Corporation (CNNC), is also reportedly under investigation over a 1.8-billion-yuan corruption scandal.
"Corruption is ingrained in SOEs, so SOE leaders don't see taking money as a problem," said Meng Ting, an experienced lawyer with Jinque Law Firm in Beijing . "They also accept brand cigarettes, bottles of quality wine, cars and even luxury villas."
"And just look at how many send their children abroad to be educated or are already running businesses themselves," added Wu Dong, a Shanghai lawyer with the M&A Law Firm, who has years of experience in mergers between foreign and Chinese companies.
A picture published on an Sina.com, a major Internet news portal, last year appeared to show Zhou Jiugeng, a government official in Nanjing, Jiangsu province, smoking cigarettes that cost 180 yuan a pack and wearing a watch worth 100,000 yuan. The vitriol it sparked led to a probe into his dealings and his detention this year for allegations of taking bribes.
Related readings:


 Wuxi Public Security Bureau denies bribe charges


 CCTV reporter sentenced for taking bribe


 Punishing bribe-givers


 Bribe cases to be probed
And when a government official is suspected of being corrupt, business leaders with whom they have links are usually quick to follow. After the former Party chief of Shanghai, Chen Liangyu, was found guilty of embezzling billions from the city's pension fund in 2006, dozens of senior government officials and SOE leaders were also arrested and sentenced for their involvement.
"The recent outbreak of high-profile cases shows the nation's determination to deal with the problem. However, it also highlights the prevalence of corruption in Chinese business circles and that the amount these people are accepting in bribes is drastically increasing," said Zhuo Zeyuan, a political law professor for the Party school of the Central Committee of the Communist Party of China (CPC).
"There are plenty of rules to regulate SOE bosses, government departments to watch SOE assets and profits, as well as an increasing number of random inspections to check operations. But none of them work."
Local offices of the central State-owned assets supervision and administration (SASAC) were launched in 2003 and are charged with tracking assets and carrying out random audits to ensure correct operational procedures are being followed.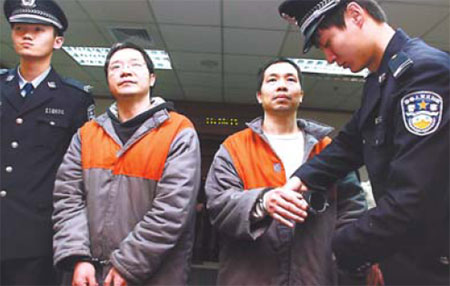 Hu Hancheng, left, received a life sentence on March 2 at Beijing No 1 Intermediate People's Court for taking bribes of more than 5.5 million yuan. Chen was a former official from China Development Bank. Ren Hesheng, right, was sentenced to 11 years. [File photo]
When allegations of corruption arise, however, the matter then comes under the responsibility of the disciplinary and juridical systems.
"But when lots of departments are supposed to be watching for wrongdoing, it usually ends up that none of them do the job efficiently," explained Zhao. "Also, corruption is usually only discovered after huge losses to public funds have already been made because anti-corruption is not a feature of the daily management of SOEs."
Hu Xingdou, an economics professor at the Beijing Institute of Technology, agreed. He added: "SOEs have independent supervisors; they have board directors and work unions, who are both expected to oversee the management teams. But they seem to be only for decoration and offer no real use.
"Leaders even spend lots of money on hiring professionals to draw up internal regulations to prevent corruption. But they can invalidate all of them with just one order."
Xue Lan, deputy chairman of the school of public policy and management at Tsinghua University in Beijing, added the system is also being held back by SOE bosses often having administrative ranks that are higher than the government officials charged with supervising them.
In the pyramid of power at SOEs, the chairman is king. "They have the power to employ millions with one signature, so people are not surprised by the amount of bribery that goes on, even if it totals millions or hundreds of millions," said Zhang Peihong, a lawyer representing one of the four arrested Rio Tinto employees.
Chen, the ex-chairman of Sinopec, had earned himself a reputation for his arbitrary and despotic exercise of power and, before his downfall, was once famously quoted as saying: "The 1 or 2 million yuan I spend socializing in a month is a piece of cake compared with the 20 billion yuan my firm brings to the State in taxes every year. You can't make money unless you know how to spend it."