China will continue its policy of subsidizing farmers' purchase of automobiles in a bid to spur vehicle sales, as part of the government's concerted efforts to stimulate domestic demand, a government official said yesterday.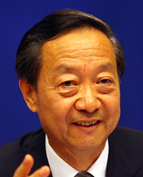 Li Yizhong
The policy, put in place earlier this year, has proven to be successful and will be extended, Li Yizhong, minister of industry and information technology, said at a news conference in Beijing yesterday.
China's vehicle sales posted a 63-percent year-on-year growth in July, which is usually the worst period of the year for auto sales, according to figures released by China Association of Automobile Manufacturers.
The country sold 1.09 million vehicles last month, the fifth consecutive month that the number has exceeded the 1-million-unit mark.
"The fundamental reason behind the dynamic performance is the series of stimulus policies we doled out," Li said, pointing to other incentives.
The government has cut in half the purchasing tax on passenger vehicles with engines smaller than 1.6 liters, a policy that it said will last until the end of this year. Li did not say whether the government would extend the policy.
The government has also introduced policies under which customers can get subsidies if they trade in their old vehicles for new ones.
Related readings:


 Subsidy policy to spur commercial vehicle market

 Public opinion sought on auto replacement subsidy program


 Farmers to get subsidy for auto purchases


 Rural home appliance sales grow with subsidy

"The impressive double-digit auto sales growth against the backdrop of a worldwide industry slump is largely attributed to our policy stimulus and shows they are successful," Li said.
The minister also said the government would push ahead aggressively with mergers and acquisitions among the enterprises to improve industrial consolidation. He said his ministry was working on guidance and restructuring details for 10 major industries, without going into specifics.
Li said China's industrial growth slump has been reversed and corporate profitability has improved considerably.
Industrial output rose 10.8 percent in July from a year earlier, after gaining 10.7 percent in June, the second time since September last year that output has seen double-digit growth, the National Bureau of Statistics said on Tuesday.
"The overall industry performance is heading in a good direction," Li said. "The economy is turning better but it does not signal that the difficult period is behind us."