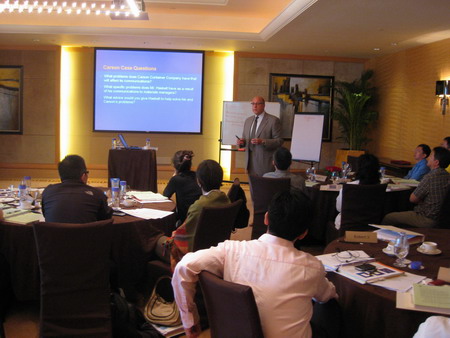 Employees of Swiss-based pharmaceutical company Novartis attend a lecture at the new Novartis China Corporate University in Beijing. More companies are offering on-site management training at corporate campuses.
More multinational companies doing business in China are offering their own Business 101 classes at corporate campuses for local employees.
Novartis International AG established Novartis China Corporate University this summer to provide professional and management training to the pharmaceutical company's 4,000 employees in China.
Frank Waltmann, head of the Swiss company's corporate learning division, said 20 percent of his educational budget now is earmarked for China.
Waltmann said his division wants to offer employees continuing training opportunities focused on doing business in China and also on doing business in the global marketplace.
Related readings:


 Novartis earnings dip on higher costs


 Novartis plans more investment


 Novartis China to launch six new drugs this year


 Novartis makes right moves to stay healthy
Novartis China Corporate University is the second one opened by the company's Development Center for Leadership Capacity. The first opened in Russia.
"Our investment in the university in China nearly doubles that of Russia," Waltmann said, declining to disclose the amounts invested in each campus.
The company's corporate learning program includes open-enrollment basic learning courses, e-learning programs and an MBA learning program in cooperation with Peking University.
The MBA program is tailored to employees of Novartis in China with its focus on local business case studies.
Training sessions are available to all levels of employees, from production line operators to senior executives.
Novartis has invited instructors from Harvard Business School, IMD Business School, Tsinghua University, Peking University and China Europe International Business School to design programs and deliver lectures.
Waltmann said corporate training is important, especially for Novartis recruits who ultimately reach management ranks at its headquarters in Basel, Switzerland, and in other locations around the world.