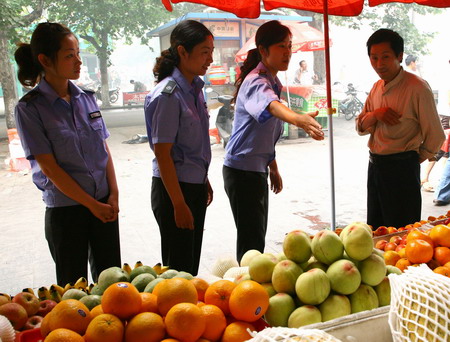 Three female chengguan officers ask a fruit vendor to put away goods at his stall in Donghai county, Lianyungang city of Jiangsu province on June 15. To ease the tension between the vendors and chengguan officers, the county established a chengguan team of 10 women in June to patrol the county's downtown areas. [China Daily/Wei Aihua]
SHANGHAI: About 10,000 street peddlers will be allowed to legally sell their wares in Nanjing, capital of east China's Jiangsu province, thanks to a new initiative aimed at helping low-income families.
The change, which will take effect next month, is geared toward "providing employment and making lives easier for the city's poor" by giving them licenses for street businesses, said a representative from Nanjing's municipal Urban Management Bureau.
The initiative is aimed at families with no wage earner and those families surviving on government subsidies. Under the scheme, they will be allowed to participate in street trading at one of around 10,000 designated areas throughout the city.
Related readings:


 Illegal peddlers receive schmooze treatment


 Urban manager stabbed by peddler in critical condition


 Beijing to crack down on street peddlers selling fake Olympic mascots


 Beating those boxing peddlers to the punch


 Peddlers' rights need protection
To qualify, however, people will need to hold a local hukou, or permanent residency permit, and their street trading must not "disrupt local traffic or affect the environment".
The initiative, the first of its kind in the country, was also triggered partly in response to a series of ugly confrontations between unlicensed street vendors and urban management officers - known as chengguan - that led, on occasion, to brawls and even deaths.
With the legalization of street trading, such conflicts would be "reduced" if not eliminated entirely, said an officer surnamed Zhang from Nanjing's urban management bureau.
Zhang Dongmao, the bureau director, told local newspaper Modern Express the law shows "maximum respect for people's survival rights".
Local media reports quoted a peddler as saying the change would mean his family could earn a living without fear of ending up in trouble.
A chengguan staff member, surnamed Yang, told China Daily that nearly 100 people in the community had already applied for a license.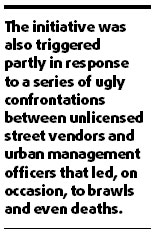 But he pointed out that the legalization of street trading in the community did not mean the end of the chengguan.
"In fact, it has raised greater challenges for us, in that we have to change our thinking and improve our way of management," he said. "And we also have a number of responsibilities other than regulating street peddlers."
Meanwhile, some residents have raised doubts about the feasibility of the law.
"It is only for the local people. How about those migrant workers who are perhaps even poorer than us? They should also be protected by the law," said a resident surnamed Huang.
"It will require the government to watch over their own behavior," pointed out Wang Jue, another resident.
Wang, who sells goods on the street in addition to working at a company, said people like him, who are not poor but are interested in participating in street trading, were being discriminated against.
"I'm not selling things for profit. It's just that I like the way - how you get to know different customers and friends. Will I now be blocked by the new law?"
Zhang from the urban management bureau said that when implementing the law, the government will take into account the interests of different people, be tolerant, and gradually extend the policy to benefit everyone.