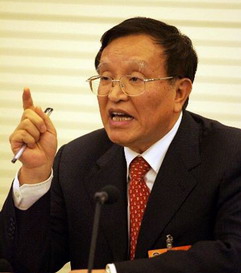 Zhang Guobao 
The inflow of hot money, or investments by speculative institutional investors, is the main reason for the recent fluctuation in oil prices, a senior Chinese official said on Friday.
A growing number of speculators in the oil market have exacerbated the uncertainty in oil prices, Zhang Guobao, director of the National Energy Administration (NEA), told the Global Think Tank Summit in Beijing on Friday.
Global oil demand has not seen an obvious recovery in the first half of this year. However crude prices have jumped from $37 per barrel to around $70 per barrel. "The change in oil price cannot truly reflect the demand," said Zhang. "The hot money flow should be regulated more strictly."
Many experts have been saying that the money pouring into the oil patch from mutual funds, traders, hedge funds, and other financial players are pushing up oil prices.
OPEC President Jose Maria Botelho de Vasconcelos, on Friday said that OPEC is "satisfied" with the current oil price.
The current price is good for both consumers and producers, de Vasconcelos said. OPEC is producing about 25 million barrels of oil a day and the organization is contributing to the oil market balance, he said.
OPEC doesn't have a price target, he said, when asked if $80 a barrel is the group's oil price goal.
China will actively pursue international cooperation to enhance its energy security, said Zhang. "International cooperation is of strategic importance to China, which relies on imports for half of its oil needs.
China has already signed energy cooperation agreements with 36 countries, he said.
The area of energy cooperation has covered many areas like oil and gas, coal and power, as well as green technologies and solutions.
Zhang's views echo those of Nubuo Tanaka, executive director of International Energy Agency. "One cannot enhance one's own security by risking the security of others."
Lin Zhiqin also contributed to the story