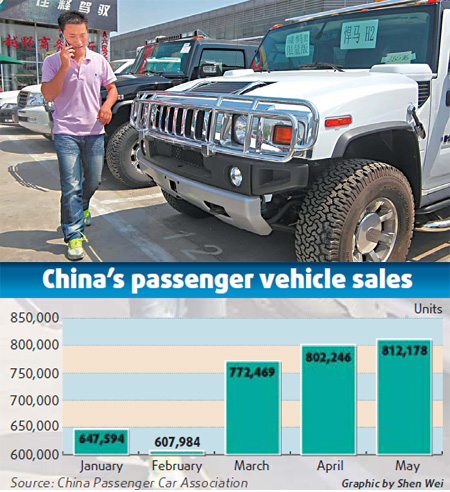 A man walks past a Hummer H2 at a vehicle market in Beijing. [China Daily]
China's automobile sales will "definitely break the 10-million-unit barrier" in 2009, the China Passenger Car Association said, raising its forecast for the automobile industry this week on the back of a robust growth in vehicle sales in May, the fifth consecutive month it has climbed this year.
The association said "automobiles sales in China will touch 11 million units this year, on the basis of the total number of vehicles sold across the country in the first five months."
Related publication: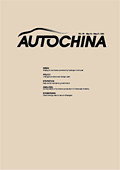 Data released by the association showed that China sold 812,178 units of passenger vehicles, including minivans, sports utility vehicles, and multipurpose vehicles, in May, another monthly high.
Sales jumped by a faster-than-expected 54.7 percent year-on-year, and up a slight 1.2 percent from April.
Total passenger car sales in the first five months jumped 29.6 percent, to 3.64 million units from the same period last year, said the association.
China also has, for the fifth consecutive month, beaten the US as the world's largest automobile market. "The growth in the passenger car segment will probably continue in June to hit a new monthly record, which will boost the whole-year sales to the 11-million-unit mark," said Rao Da, secretary-general of the association.
Moreover, sales in the second half are much better than that in the first six months in the automobile industry, said Rao.....
The full text is available in the July Issue of AutoChina. Please visit E-shop (http://eshop.chinadaily.com.cn/)for more subscription details.