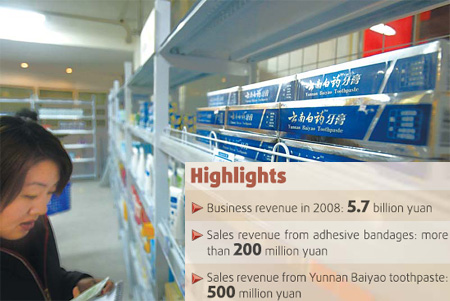 Yunnan Baiyao toothpaste on the shelves of a pharmacy in Beijing. [CFP] 
Yunnan Baiyao used to be a one-product company, thriving on the mystic aura of the "baiyao", or white medicine, a herbal remedy based on an ancient formula for treating wounds, both internal and external.
From its secluded base in the eastern suburbs of Kunming, the company has embarked on a long journey of diversification by taking on some of the international giants in the fiercely competitive personal health care market.
Backed by a huge following in China, the company, which is listed in Shenzhen, has finally proved that it is more than, well, a myth.
The company's adhesive band-aid, coated with its famous baiyao, of course, constantly out sells those of other vendors, including industry leader Johnson & Johnson in the Chinese market.
Encouraged by its success in diversification, the Chinese company has diversified into other product lines.
Instead of competing on price, Yunnan Baiyao has set its sights on the higher end market segment dominated by various foreign brands. Its toothpaste, for instance, sells for 28 yuan a tube, which is at the top end of the price chart.
The company said that this product is beginning to win acceptance among the younger middle-class consumers who have developed a growing fancy for domestic brands with a long history.
The company's next target is to boost its annual revenue to 10 billion yuan ($1.46 billion) within three years, said Qi Taiyun, Party chief of the State-controlled pharmaceutical firm. According to its 2008 annual report, the figure was 5.7 billion yuan last year.
The makeover of the company began some seven years ago when its management decided to leverage on the fame of its baiyao to modernize its product mix.
In 2001, the company unveiled its own adhesive band-aid product in a joint venture with German personal care products maker Beiersdorf AG, which owns the brand Nivea.
According to Yin Pinyao, general manager of Yunnan Baiyao Group, the firm generated more than 200 million yuan in revenue from selling its adhesive bandages in 2008. It's estimated that sales of adhesive bandages nationwide can touch 500 million yuan in China each year.
Following the success of its adhesive bandages, the Chinese firm added toothpaste to its product line-up. Despite its retail price of 28 yuan being higher than most of its competitors, Chinese customers accepted the Yunnan Baiyao toothpaste almost instantly, thanks to its efficiency in preventing gum bleeding.
Sales revenue from the Yunnan Baiyao toothpaste topped 500 million yuan last year, making it the fifth most popular toothpaste in China in terms of sales revenue, Yin said.
Related readings:


 Govt gives a boost to TCM use


 Drug firm posts 11% rise in net


 Pharma, TCM makers gear up


 More foreigners crazy about Chinese medicine

Adding more products such as adhesive bandages and toothpaste to its arsenal has proved to be a success for Yunnan Baiyao Group.
The company reported 465 million yuan in net profit in 2008, up 40.95 percent from the previous year, despite the global economic downturn having trimmed its export revenue by as much as 40.1 percent last year to 19.6 million yuan.
The firm also raised 139 million yuan last year by selling 50 million shares to Ping An Insurance, to keep its output capacity in line with growing domestic demand, Yin said.
Falling price of construction material, as a result of the global financial crisis, has given it a great opportunity to save on output capacity expansion, Yin added.
The Shenzhen-listed pharmaceutical firm's results in the first quarter of 2009 further added to the company's growing optimism.
The company reported 113.4 million yuan in net profit in the first quarter of 2009, up 32.96 percent from the same period a year earlier. Its first quarter revenue also rose 34.5 percent from a year ago to 1.52 billion yuan.
"Yunnan Baiyao Group's first quarter results, in an adverse economic environment, was better than we expected," CITIC Securities analyst Yao Jie wrote in a report.
Nevertheless, Yunnan Baiyao Group's Party chief Qi noted the difficulty the company was facing amid the global economic downturn, especially the pressure from declining exports. But he remained confident that the firm would post 10 billion yuan in revenue by 2011.