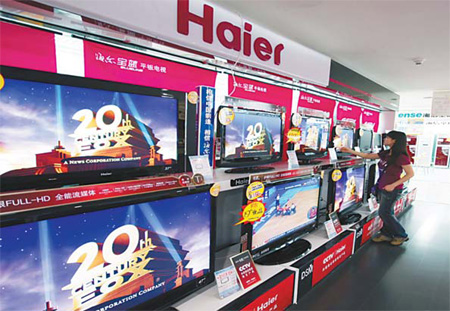 Haier flat-panel TV sets at an electronics store in Beijing. [CFP]
Chinese home appliances maker Haier yesterday said it planned to acquire a 20 percent stake in its New Zealand counterpart Fisher & Paykel, making a breakthrough in the company's efforts to expand outside China.
China's largest whiteware manufacturer said it has kicked off a plan to invest in Fisher & Paykel and is going to become the largest shareholder in the New Zealand firm if everything goes to plan.
The two firms also signed a deal that allows Haier to exclusively sell Fisher & Paykel's home appliances in China, while Fisher & Paykel also has the exclusive right to sell Haier products in Australia and New Zealand.
Haier will have to invest NZ$46 million for a 17 percent stake and participate in a rights offer raising at least another NZ$143 million, according to Fisher & Paykel, New Zealand's largest home appliances maker. Fisher & Paykel made a net loss of $59 million in the fiscal year ended March due to the global economic slowdown, compared to a net profit of $41 million in the previous year.
"The deal will allow Haier to share the marketing, and research and development resources of Fisher & Paykel in the high-end whiteware market," Haier said in a statement.
Fisher & Paykel Chief Executive Officer John Bongard also said at a conference call yesterday that the deal with Haier provides a unique opportunity to fully globalize Fisher & Paykel appliances and drives the company's global expansion into parts of the world that had previously been very difficult to penetrate.
Related readings:


 Haier's profit up 20.6% in 2008


 Haier leads in global refrigerator sales


 Haier demotes six executives for poor performance


 Haier launches first after-sale services center in Jordan
Pressed by fierce market competition, aggressive domestic retailers and cost increases in its home base, Haier has been striving to expand outside its turf but failed in most of its efforts to acquire a foreign brand. In 2004, it lost to Whirlpool Corp in acquiring the US appliance maker Maytag Corp. Last year, the company also dropped a bid for General Electric Co's home appliances business.
In March, Zhang Ruimin, Haier's chairman and chief executive, said the company was planning to outsource most of its manufacturing processes and shift its focus to marketing, in an effort to tap into the more profitable high-end whiteware market.
Based in Qingdao, Haier is the world's fourth largest home appliances manufacturer and employs more than 50,000 workers globally. The company last month posted a 40 percent plunge in its first quarter profit due to flat sales.