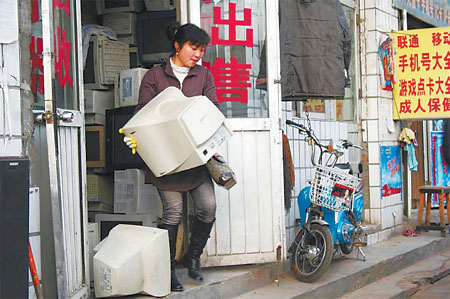 A woman hauls a used computer monitor out of an e-scrap vender's house in Houbajia village in Beijing. Houbajia village is the biggest e-waste collecting center in the city. Si Tingting
Mounds of electronic waste pile up each day in Beijing's Houbajia village as the city's residents, encouraged by cheap prices, discard an increasing amount of perfectly functioning cellphones, desktop computers, laptops and iPods to update to newer models.
Related readings:

 Market for illegal e-waste shut down


 China, Japan to discuss e-waste pollution


 The grim reality of e-waste burden

The byproduct of this consumer frenzy surrounds Zhao Xiaogang, manager of a Houbajia scrap cellphone store. His shop resembles a scientist's lab with bits of dismantled mobile phones everywhere. Some Frankenstein-like hybrid cellphones are on display on the dusty glass counter.
Zhao makes his living buying second hand phones for 10 to 20 yuan and re-sells them, after polishing and remodeling them with components from other phones, for 30 to 50 yuan each.
Houbajia village, which lies 1.5 kilometers to the north of Beijing's electronics center, Zhongguancun, is the biggest electronic scrap collecting center in the city.
Thousand of other Houbajia villagers make ends meet like Zhao by collecting, sorting, rebuilding and reselling electronics for 80 to 90 percent less than retail prices. Some pick apart electronics for scrap metals. Houbajia villagers say the gold extracted from seven cellphone motherboards is enough to make a necklace.
But their livelihood could be in trouble.
China unveiled the Management Regulation on the Recycling and Treatment of Disposed Appliances and Electronics Products on March 4, which says that people without government licensing and the right technology to deal with e-waste cannot recycle it themselves. Those breaking the regulation, which will take effect in 2011, face fines of 50,000 to 500,000 yuan.
Large-scale companies in the industry welcome the regulations. Unlike the individual operators they can afford the investments needed to comply with the new rules.
Professional e-waste recycling companies could soon dominate the business. The number of such firms has increased in the last two years.
Fuji Xerox, the first foreign company to establish an e-waste recycling facility in China, unveiled its integrated resource recycling system in Suzhou in East China's Jiangsu province in January 2008.
The facility will dismantle printer cartridges, photocopiers and printers from all over China and dissolve them into 64 categories of steel, glass and copper.
The plant will process 15,000 pieces of equipment and 500,000 printer cartridges annually.
In Wuhan, capital of central China's Hubei province, the local government paired up with a professional e-waste recycling company, Green Eco-Manufacture Co Ltd (GEM), to set up 300 "convenience stores" in residential communities this year to collect 19 kinds of disposable electronic home appliances, such as TV sets, air-conditioners, DVD players and computers
GEM will spend another 100 million yuan setting up a recycling plant in Wuhan which will be able to deal with 200,000 tons of e-waste a year using avant-garde technology, rather than the traditional technique of dipping the circuit board in acid water to extract some precious metals.
But large-scale e-waste recyclers in China have not met with much success so far. The Shanghai Waste Electric and Electronic Equipment Company, for example, reportedly receives around 10 calls a day for e-waste submission.
"E-waste collection centers need to offer door-to-door services, just like individual scrap dealers on the streets do," said an official with Wuhan's local environmental protection department said.
But even if the new regulations don't push out the individual scrap dealers and turn their door-to-door service edge over big recycling companies into a lasting advantage, the financial crisis might put them out of work.
"I felt the pressure from the slowing economy even before Beijing hosted the Olympic Games," said Hu Zhong, a scrap dealer in Houbajia Village.
"The financial crisis has made everything cheap," said Hu.
A kilogram of copper was worth 60 yuan before the economic slowdown, but now it's only worth 25 yuan, he said.
Households and businesses will probably stop throwing out perfectly good electronics just to get new models in tough economic times, he added.
"Many of the scrap dealers in Houbajia Village have lost a lot of money in this economic slowdown and many are thinking about leaving the business and selling fruits or vegetables," said Hu.
"The downturn has kind of blows up our confidence in this career," he said.