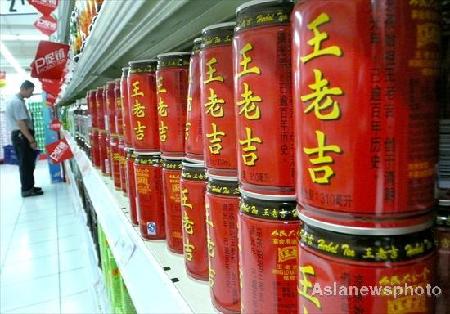 Tins of Wang Laoji herbal tea are seen on the shelf of a super market. [Asianewsphoto]
Traditional Chinese herbal tea combined with Western marketing strategy is producing one of the most popular soft drinks in China.
Wang Laoji, a 170-year-old brand of herbal tea, beat global beverage giant Coca-Cola in China in 2007 by generating 9 billion yuan worth of revenue. Wang Laoji's success started from a dose of Western marketing in 2002.
JDB Group, a private beverage company originally from Hong Kong, had sold Wang Laoji herbal tea for seven years by 2002. Yang Aixing, manager of the advertising department at JDB Group, went to Achieve Marketing Consultation (AMC), a partner of the consulting firm Trout & Partners, simply looking for a decent advertising company to shoot a new commercial.
"Yang was expecting nothing more than a cool commercial from us," said Geng Yicheng, general manager of AMC.
But Geng saw huge market potential for herbal tea that could relieve ailments considered hot and masculine in Chinese medicine.
Geng created a new identity for Wang Laoji in the Chinese beverage market, based on its hot ailment curing properties, distinguishing it from other kinds of herbal tea.
Advertising costs for Wang Laoji jumped from 10 million yuan in 2002 to 40 million yuan in 2003. But sales revenue also soared from 100 million yuan to 600 million yuan. Geng estimates sales of Wang Laoji topped 10 billion yuan in 2008.
The catchy sentence from Wang Laoji's commercial, "Worried about hot illnesses? Drink Wang Laoji", became as familiar to Chinese as Nike's "Just Do it".
Chinese consumers' rising demand for healthy drinks also contributed to Wang Laoji's popularity. With incomes growing steadily on the back of China's booming economy, consumers began looking for healthier drinks. Herbal tea, with its medicinal properties, gained ground against traditional soft drinks such as soda. Other tea-based soft drinks such as bottled green tea and red tea also became popular in China.
JDB Group, Wang Laoji's producer, also bolsters its company image through good public relations. JDB Group was one of the first companies to donate 100 million yuan for disaster relief when the devastating earthquake hit China's Sichuan province in May 2008.
The move won praise from millions of internet users in China, with some calling on people to drink Wang Laoji every day.
On July 7, 2008, the JDB Group rented a yacht and flew a "2008 Welcome to Beijing, China" banner in New York City to show local residents its support for the 2008 Beijing Olympics. But selling herbal tea soft drinks to New Yorkers or other foreigners will likely be hard.
"Foreigners probably won't understand what hot ailments are and Wang Laoji's selling point will be lost," said Geng.
JDB Group moved its headquarters from Guangdong province in South China to Beijing, the country's capital, in August 2008.
But JDB Group's growth also makes it more vulnerable to the global economic downturn. People tightened their belts and stopped buying soft drinks in the fourth quarter of 2008 (soft drink consumption growth rates dropped 10.6 percent), according to Wind Info, China's leading financial data provider.
Dropping consumption slowed Wang Laoji's sales, said Geng.