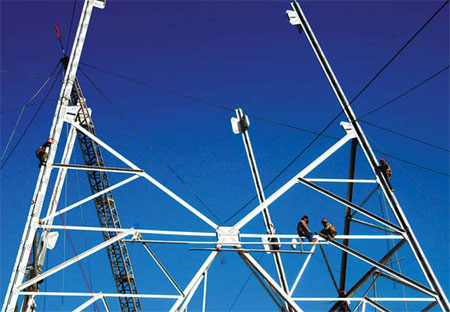 Construction workers erect a tower for an ultra-high voltage power transmission line from Baiyin to Yongdeng in Gansu province in Northwest China. [China Daily]
State Grid Corp of China, the country's leading grid operator, said on Friday it planned to invest 100 billion yuan ($14.61 billion) into building ultra-high voltage (UHV) power transmission lines over the next three to four years.
Related readings:


 China to invest $169.9b in grid construction


 State Grid steps in to upgrade power systems


 China's installed power capacity rises 10% in 2008


 Wen calls for regional transport grid

The announcement follows the group's completion of China's first UHV power transmission line, which links the coal-rich Shanxi province to Hubei.
The UHV line also boasts the largest capacity in the world, able to transmit 1,000 kv over 640 km, Shu Yinbiao, executive vice president of State Grid, told a press conference on Friday.
State Grid, which oversees power supply in China's 26 provinces, municipalities as well as autonomous regions, began the construction of the project in 2006 and has invested 5.9 billion yuan in the Shanxi-Hubei project.
Compared with conventional power transmission lines, UHV lines are able to transmit electricity over a longer distance and more efficiently.
The government has also approved two other State Grid UHV power transmission lines, one linking Sichuan and Shanghai and the other connecting Sichuan and south Jiangsu, said Shu.
The total investment for the two lines will exceed 40 billion yuan, the company said.
The group plans to take advantage of the rich hydropower resources in southwest China and coal resources in north China.
"Development of UHV power networks is in accordance with China's energy strategy," said Shu. Lots of China's water resources are in the southwest, and two thirds of coal is in northern provinces, whereas demand centers are mainly in the coastal regions.
Some industry insiders have raised questions over UHV power networks, including pollution, technology and economic viability. Shu expects the new line to eradicate these concerns.
In another development, the Beijing-based State Grid said in a statement on Friday that it had taken over the largest stake in a consortium controlling National Grid Corporation in the Philippines from January 15.
National Grid Corporation, includes two Philippine companies, Monte Oro Grid Resources Corp and Calaca High Power Corp.
State Grid now has 40 percent of the consortium. It is currently China's largest investment project in the country.