China's central bank said on Thursday it would continue to encourage commercial lenders to extend credit support to small enterprises and rural banking to sustain the stable and rapid development of the national economy.
Credit procedures should be simplified in order to allow small enterprises to get loans more easily. Commercial lenders are encouraged to explore innovative financial and credit products to better serve the capital-strapped small business, according to a statement issued by the People's Bank of China on its website.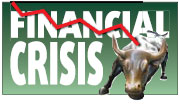 The bank reiterated the financial institutions must make sure the lending to those companies must rise faster than overall loan growth.
China raised interest rates five times through September this year and strictly controlled credit, further pinching small enterprises, especially exporters, which were already battling an appreciating Chinese currency and soaring costs of labor and raw materials.
In order to prevent the world's fourth-largest economy from drastic slump amid the global financial turmoil, the central bank adjusted the tightening monetary policy to a more flexible one by cutting the lending rates twice in 6 weeks.
Early in August, China's central bank raised the 2008 credit quota by 5 percent for nationwide lenders and 10 percent for local ones.
Chinese banks have extended 3.5 trillion yuan ($512.02 billion) of new loans by the end of September this year, a rise of 120.1 billion yuan from a year earlier.
The central bank governor Zhou Xiaochuan said in a meeting on Thursday that more efforts would be made to lower the market-access threshold in rural financial markets and push forward the build-up of a rural banking system with Chinese characteristics.
This included less restrictions on risk management supervision and a lower capital adequacy ratio standard to encourage more financial institutions and networks to enter such markets, the bank said in an earlier report.
Zhou said the healthy development of the rural financial institutions were fundamental to strengthen financial support to the rural economy, noting the non-performing loan ratio should be lowered to avert risk for the sustainable development of rural banking.
He urged local financial institutions to create more loan guarantee methods and provide agriculture insurance to ensure output.
The central bank meeting was held after the Third Plenary Session of the 17th Communist Party of China Central Committee adopted financial reform in the countryside to renovate the financial system in rural areas.
The plenum, which focused on issues concerning rural reform and development and ended on Oct 19, said in a communique it would strive to double the per-capita disposable income of rural residents by 2020 from the current level.