The current correction in property prices may send chills down the spines of real estate developers, but it is long overdue for many consumers, who have long been deprived of their dream of owing a home by skyrocketing prices.
The latest figures show that property prices in 70 major Chinese cities dropped 0.1 percent in August from the previous month.
While the end of the housing bubble seems necessary and inevitable, the real estate sector must be handled with deliberation. The government must assess national trends in the real estate market and respond quickly to ensure that this correction will neither hinder the long term development of the housing sector, nor affect national economic growth.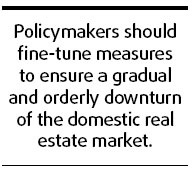 In the long run, China's massive urbanization process and rapid income growth will create a booming property market. In the short term, lowering housing prices will enable more people to improve their living conditions.
Policymakers should fine-tune measures to ensure a gradual and orderly downturn of the domestic real estate market. Unlike the United States, where falling real estate prices have posed a serious threat to the economy, the decline in China's real estate market will not result in a mortgage crisis, as some real estate developers have alleged.
The fact that Chinese banks are generally well positioned to weather the decline in real estate prices, however, does not mean we should be less vigilant about the challenges they may face if property prices fall further and more sharply.
The confluence of a global slowdown and tightening monetary policy at home has made it more difficult than expected to keep the country's economic growth on track.
Since the housing sector accounts for 17 percent of the country's fixed-assets investments, how this sector fares will determine whether we can shift away from reliance on exports toward a thriving domestic market for economic growth.
A healthy housing sector that can provide better shelter and more jobs will remain a trump card for the Chinese economy at least in the coming two or three decades.