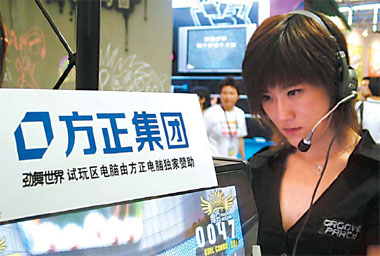 A woman plays a Founder Group game at a show in Shanghai. [newsphoto]

Beijing Founder Electronics Co Ltd said yesterday it has sued US game company Blizzard Entertainment over alleged copyright infringement of its fonts.
The case is the latest in a string of lawsuits launched by Chinese companies against US firms recently as the rift over intellectual property rights protection continues.
Beijing High People's Court has accepted Founder Electronics' case.
Founder Electronics is asking for compensation of 100 million yuan for the alleged infringement - the largest amount claimed by a Chinese company in a copyright case.
Founder Electronics, a wholly owned subsidiary of Founder Group, is the nation's largest font supplier and has developed hundreds of multi-language fonts that are widely used in the country.
It alleges its fonts were illegally used in Blizzard's popular online game World of Warcraft.
The game is operated by NASDAQ-listed The9 Ltd, a Shanghai-based company.
"Blizzard Entertainment's World of Warcraft has been illegally copying and using five fonts exclusively developed by Founder Electronics, without our permission, which is an infringement of our copyright," said Song Zhenying, a spokesperson for Founder Group.
Founder claims it has suffered a loss of 1 billion yuan.
The lawsuit could affect The9's online game business, given the popularity of World of Warcraft.
According to market analyst iResearch, World of Warcraft was one of the top three online games in terms of downloads.
The9 said in a statement that it is discussing the case with lawyers, without giving further comment.
Blizzard was not available for comment yesterday.
China's online gaming market was worth 7.8 billion yuan last year, a year-on-year increase of 60 percent.