A private equity fund formed by Lehman Brothers and IBM has agreed to buy a stake in a Chinese software company for HK$132 million, a move that could boost the fledgling local software industry.
The investment also underscores the growing desire of Western private equity groups to buy high-growth Chinese companies created by the country's booming economy.
Under the deal, Lehman Brothers and IBM will buy a 7.7 percent stake of Hong Kong-listed Kingdee International Software Group Company Limited, headquartered in Shenzhen, a boom town in South China's Guangdong Province.
IB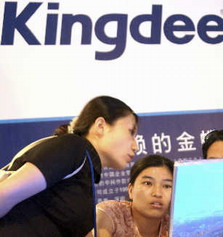 M also announced it would form a global alliance with Kingdee, which will help the firm grow into a global software player, the two companies said yesterday.
Kingdee, one of China's largest software companies, develops enterprise management software and e-business application solutions in China and the Asia-Pacific.
The investment could give a Kingdee a leg-up in competition with domestic rival Ufida software, formally known as Ufsoft, as well as Germany-based SAP and US-based Oracle.
Kingdee reported a turnover of 611 million yuan in 2006, up 16 percent year-on-year. Profit surged by 35 percent to 97 million yuan in the same period.
China's fledgling software market grew 17.8 percent year-on-year in 2006 and the information technology (IT) service market increased 26.3 percent, according to Beijing-based CCID Consulting.
Kingdee competes in what might be the most profitable segment of China's software market. The enterprise software it develops is largely piracy-free.
IBM will work with Kingdee to redesign its software products to tap into the international market.
The collaboration will enhance Kingdee's competitiveness, said company Chairman Xu Shaochun.
The Kingdee purchase marks the first major investment for "The China Investment Fund" formed by Lehman Brothers and IBM last year. The $180 million private equity fund was designed to take up minority stakes in private and public companies in China.
Charles P. Wu, managing partner of The China Investment Fund and vice-president of IBM Greater China Group, called the Kingdee deal "a new business strategy for IBM in China".
"It should exert significant influence on future investments and business cooperation for IBM in China. Furthermore, this collaborative approach will become a key component of IBM's China strategy," he said.