Changes in the registrant information of 265.com yesterday have added more fuel to the rumors about Google's possible takeover of the famous Chinese online directory.
Registrant in the domain record of 265.com was reported yesterday morning to have changed to Google on May 31, triggering speculation that Google may have taken over the Chinese directory. Google has denied earlier reports.
But by afternoon, the registrant information was changed back to 265.com.
Cui Jin, Google China's public relations director, denied the US search giant has taken over 265.com. "We did not acquire 265.com and we have begun an investigation over the registrant change," she said.
Cai Wensheng, CEO and founder of 265.com, was not available for comment.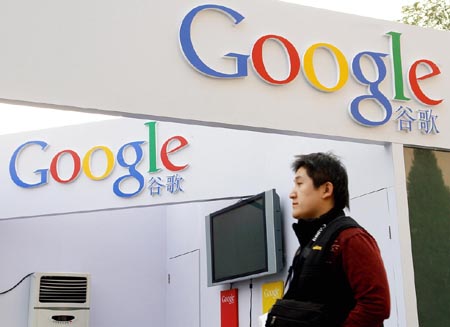 A Google booth at an exhibition in Beijing. Changes in the registrant information on June 4 sparked rumor of Google's takeover of 265.com. [newsphoto]
Earlier this year, both Google and 265.com denied rumors that they were discussing a $20 million buyout. Cai said in February that the company is seeking an independent initial public offering and would not sell out to any company.
But recent reports said the two companies were not able to agree on the buyout price and were in talks over other cooperation possibilities.
In March, Google launched in China its own directory product called "Google Navigator" after it discovered many of its Chinese users were confused by its basic search page.
Like 265.com, Google Navigator lists the most popular websites. Users only need to click the Web link on the page to enter their favorite websites instead of typing the key words.
Google said in March that it has two kinds of users in China. One, experienced search users suitable for the basic Google interface; and the other one, "mouse clickers" who have very limited computer knowledge and often have difficulties using Google's basic search product.
Industry insiders say directory websites in China have amassed huge traffic that could be encashed through search engines' online advertising services like Google's AdSense.
Baidu, Google's biggest Chinese rival that commands over half of the search market, established its own directory service in 2004 by taking over Hao123.com, another popular directory in China.
Related readings:


Google and MySpace expanding in China


China Telecom gives Google Web advertising rights


Sohu threatens to sue Google


Baidu opens 1st overseas site

Experts said Google has been eyeing 265.com as part of its efforts to catch up with Baidu in China's online advertising market.

Since its China entry, Google has been striving to localize its AdSense product. It has been cooperating with China Telecom and China Mobile in posting online advertising on the websites of the two operators.