Goldman Sachs Group Inc's Asia unit said yesterday its Hong Kong-based joint venture had acquired a majority holding in Henan Shuanghui Investment & Development Co Ltd, a leading meat processing company in Luohe, Henan Province.
After the acquisition, the joint venture Rotary Vortex Limited, which is 51 percent owned by Goldman and 49 percent by Dinghui Shine Co Ltd, will hold 60.72 percent of Shuanghui's A shares.
Rotary had separately offered to buy the shares it did not already own in Shuanghui at 18 yuan apiece, Shuanghui said. The offer must be approved by the China Securities Regulatory Commission.
Rotary has paid 2 billion yuan to the State-owned Assets Supervision and Administration Commission of Luohe for a 35.72 percent stake in Shuanghui, in addition to the 25 percent stake it acquired in May 2006.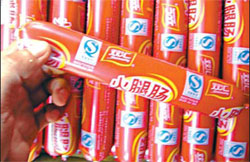 A customer takes a Shuanghui sausage from a supermarket display in Yichang, Central China's Hubei Province.
Commenting on the Rotary offer, analysts said the price is much lower than the spot price of Shuanghui A shares, which traded at 31.17 yuan apiece on May 31, 2006. It has been suspended for over eight months.
"The deal won't be done because no investor is willing to sell its stock at such a low price," said Ren Meijiang, an analyst at Orient Securities.
Under the old rule, the buyer had to make a general offer if it wanted a share of more than 30 percent in a listed company. This stipulation was abolished in the new rule released in September 2006, but Rotary must still make the offer because it signed the deal before the rule was amended.
"The offer will last for nearly two months and if no one sells the stock, the acquisition is regarded as accepted by shareholders," said Guo Rui, an analyst at Industrial Securities.
Goldman said in the statement that its investment in another meat processor, Yurun Food Group in Nanjing, would not pose a threat to Shuanghui.
Goldman now holds 3.88 percent shares of Yurun, while a fund managed by Dinghui Shine holds a 1.06 percent share. The partners said in the statement that their investment in Yurun should be regarded as financial, and that it had no intention of seeking management control.
Rotary said in the statement that it would increase Shuanghui's capital reserve to avoid a capital shortage during the productivity expansion, and introduce new technology and manufacturing processing after the acquisition.
(China Daily 02/14/2007 page13)