Taiwan-funded firms in Zhangpu
By Tu Lei (Chinadaily.com.cn)
Updated: 2006-06-27 10:40
Zhangpu of Zhangzhou City, East China's Fujian Province, currently has 429 Taiwanese-owned enterprises with an investment of more than US$1.08 billion. Of these, agricultural firms account for 229 with investment exceeding US$560 million.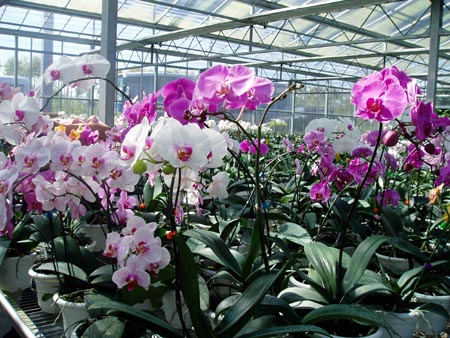 Orchids raised in Changchow Saliya Orchid Biotechnology Ing, a Taiwanese-owned flower greenhouse in Zhangpu County, East China's Fujian Province. [chinadaily.com.cn]
Covering an area of 30,000 mu (20,000 square meters) in Zhangpu, agricultural park industries cover flowers, tea, fruit and vegetables, agricultural byproducts processing and fisheries.
The flower industry has 22 greenhouses accounting for 50 percent of local Taiwanese-funded agricultural businesses. Of the 22, 13 flower greenhouses have a total investment of US$15.5 million.
This April, China approved two agricultural parks for Taiwan farmers with preferential policies, including streamlined land use applications and long-term land leases at low prices, in Zhanpu County and Qixia in East China's Shandong Province.
(For more biz stories, please visit Industry Updates)