Dandong, Liaoning: Dandong port is situated on the right bank of the Yalu river mouth in the southeast of the Liaodong Peninsula on the northernmost point of China's coastline. It is bordered by the Yellow Sea in the south and the Democratic People's Republic of Korea in the east.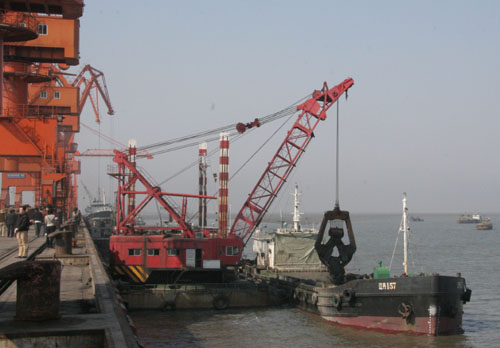 A machine cleans off silt at the Dandong port by the Yellow Sea, in Northeast China's Liaoning Proivince, April 27, 2006. [Song Hongmei/chinadaily.com.cn]

The port provides a convenient sea passage for foreign and domestic trade development in northeast China radiating from the Yalu River valley.
Set up as a trading port in 1907 and rebuilt from the mid-1980s, Dandong port became an important sea cargo distribution centers for the many products of northeast China.
Dandong port has two port areas - Dadong and Langtou, with ten production berths. There are three berths for 3,000 dwt vessels, one for 1,000 dwt vessels, three deep water berths for 10,000 dwt vessels and two for 30,000-50,000 dwt vessels. The port's annual throughput is 4.25million tons.
Shipping lines serving the port provide direct links with more than 70 ports in over 30 countries and regions including Japan, the Democratic People's Republic of Korea, the Republic of Korea, Russia and Hong Kong. The port offers general and bulk cargo, container and passenger transport services.