Dalian Changxing Island Zone
(chinadaily.com.cn)
Updated: 2006-04-26 21:08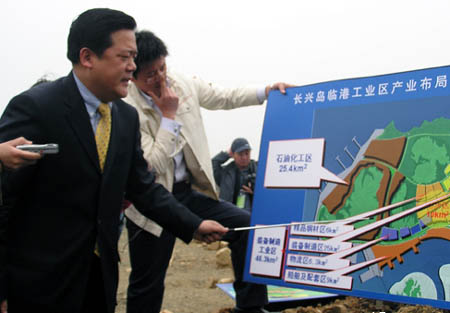 Yi Qingtao, Vice-director of Dalian Changxing Island Harbor Industries Zone, gave a brief introduction on the island's development strategy, April 26, 2006. [chinadaily.com.cn]


Park profile: The zone is located at the Liaodong Peninsula and right at the middle section of the coastline on the Bohai Sea side of Dalian. Long-term planning of development will cover 129.7 square kilometers, which is composed of 92.8 kilometers of the zone for port-related industries (including 21.1 square kilometers of the port area and 71.7 square kilometers of the industrial part) and a residential and holiday area of 36.9 square kilometers.

Supporting facilities:

Transport: The zone is linked with the Shenyang-Dalian Expressway by a provincial-level road, which runs across the island, only a 50-minute drive to Dalian.

The construction of the expressway from the South Haiwan Bridge Exit of the Shenyang-Dalian Expressway to Changxing Island and the railway extending into the Island will be completed by the end of 2006. The 10,000-DWT bulk cargo terminal of the Changxing Island will operate soon. The initial construction of the deep-draft 50,000-70,000 DWT berths will be finished in 2007.

Water Supply: current water supply capacity is 20,000 tons and a water supply project that will have a daily capacity between 50,000-100,000 tons will be built.

Power Supply: a new transformer substation of 220 KV will be built in 2005.

Communications: well-established in communication facilities.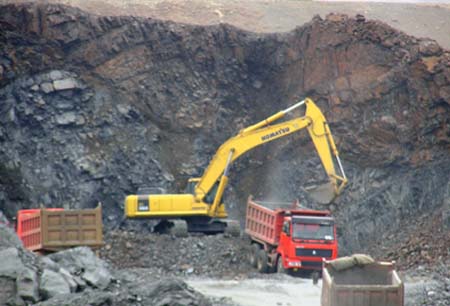 Industrial orientation: Major equipment manufacturing, shipbuilding and supporting manufacturing high-quality steel, refined chemicals, warehousing and logistics and export processing.
Investment climate: With rich in coastline and land resources, it possesses advantageous conditions for the development of large-scale port-related industries. Forty-four km of the 91.6 km-long coastline can be used in developing port-related industries and are suitable for the construction of port berths with capacity ranging from 50,000 to 300,000 tons. Waste land and beaches as well as mountain forest land that can be developed and used is 185 km2 which can satisfy the land needs of large industrial projects and port construction cost-effectively.
Dalian Changxing Island Zone for Port-related Industries Administrative Committee
Add: Harbor Industires Zone, Changxing Island, Dalian, P.R. China
Contact: Yi Qingtao
Tel: 86-411-8528 0054
Fax: 86-411-8528 1899
E-mail: qingtaoyi@yahoo.co.uk
(For more biz stories, please visit Industry Updates)