Jinzhou in Northeast China's Liaoning Province is stepping up efforts to strengthen its coastline and port construction to boost the economy, a senior official revealed at a press conference on Monday.
Tong Zhiwu, secretary of the Jinzhou Municipal Committee of the Communist Party of China (CPC), says the city of Jinzhou with 150 kilometers of coastline is considering opening up more. Jinzhou was previously considered an inland city as its economy was focused on agriculture and land-based industry.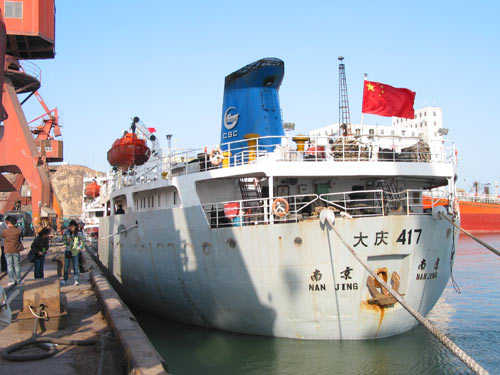 Jinzhou port [Song Hongmei/chinadaily.com.cn]
Liaoning Province begun to implement an ocean-focused opening-up project called 'Five Spots and One Line' after Li Keqiang, former governor of Central China's Henan Province, became secretary of Liaoning CPC Provincial Committee in 2005.
The ports at the five cities of Jinzhou, Huludao, Yingkou, Dalian and Dandong, all located along the coastline of Bohai Bay are being expanded.
Thanks to its uniquely important location on the Bohai Sea, Jinzhou is of particular importance in Liaoning Province.
The Liaoning provincial government aims to rejuvenate the old northeast industrial base by a strategy of integral exploitation of Jinzhou Bay. The provincial government and Jinzhou local government will invest more money in its construction in the future, Tong said.
Last year the Jinzhou municipal government invested heavily in infrastructure construction, such as building a bigger port, as well as expressways and railways.
Jinzhou Port, the only outside-oriented port on the northwest part of China's Bohai Sea, has 12 deepwater berths so far which can accommodate 27 10,000-tonnage ships at the same time.