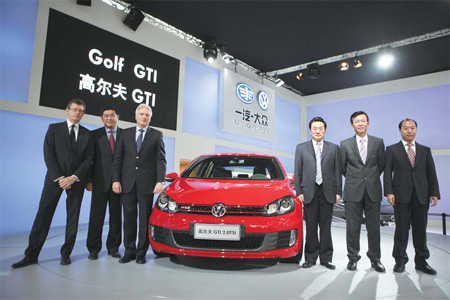 Chief executives of Volkswagen Group China and FAW-Volkswagen take a collective photo at the recent press conference to premier the Golf GTI. The third from left is Dr Winfried Vahland, president and CEO of Volkswagen Group China. [China Daily]
Volkswagen Group China announced its "South China Strategy" during the Seventh China Guangzhou Automobile Exhibition.
With plans for a three-fold increase in sales to more than half a million units in south China by 2018, the auto giant has its sights set on doubling its nationwide sales to two million units over the next decade.
The company brought its complete range of brands to the Guangzhou Auto Show as it debuted its south China Strategy, an area that generates about a third of the country's GDP.
"South China is today one of the wealthiest and most developed markets in Asia," said Dr Winfried Vahland, president and CEO of Volkswagen Group China.
South China is the key growth engine for the whole nation, and is one of the most affluent and developed markets. Despite the financial crisis, Volkswagen still believes in the growth of the auto market in south China.
During its development in China, Volkswagen Group China mainly focused on markets in the north and east, with each contributing 20 percent to sales through its joint ventures - Shanghai Volkswagen and FAW Volkswagen - as well as imported vehicles.
The south now comprises only 12 percent of its market. Volkswagen has factories in the eastern city of Nanjing and the western city of Chengdu, while the south has manufacturing bases for Japan's Toyota, Honda Motor and Nissan Motor.
Through its South China Strategy, Volkswagen Group China is determined to improve its market performance in south China, together with Shanghai Volkswagen and FAW Volkswagen.
"It is a joint strategy for Volkswagen Group China, Shanghai Volkswagen and FAW-Volkswagen. We trust people in our company. We want to be a reliable partner in China and serve our customers in a positive way", said Vahland.
New models
Volkswagen Group's South China Strategy started in 2007 in the Hong Kong special administrative region, the largest destination for mainland tourists and a trend setter for the entire Asia-Pacific region.
The successful penetration into south China is critical to ensure the success of Volkswagen Group China's Strategy 2018 which was announced in early 2009.
In south China, Volkswagen Group will increase its network with multiple dealership formats and seamless coverage. All Volkswagen group brands will implement more customer-oriented marketing programs in south China.
From 2009 to 2012, Volkswagen Group China will launch no less than 20 new models in China with many of them debuted or launched in south China. In 2009 Guangzhou Auto Show Tiguan and Golf GTI were premiered with a considerable fanfare in the Chinese market.
To deliver top level services to the customers in south China, Volkswagen Group China will improve customer satisfaction by enforcing the new standards of dealership facilities, and by being more trend setting, delivering more value and more leading technologies.
Volkswagen Group's China sales surged by 37 percent year-on-year to 1.06 million cars in the first three quarters of this year, already surpassing the 1.02 million units sold in all of 2008.
"The extraordinary growth in our sales volume in China will continue to accelerate our pace of development and we may well achieve our target for 2018 of two million units far ahead of time," said Dr Vahland.
The CEO said Volkswagen expects to sell about 1.4 million vehicles on the mainland and in Hong Kong this year, up more than 35 percent from 2008.
In 2010, it will grow by more than 15 percent as the auto market in China will continue to develop, but at a slower pace.
In a bid to be the most reliable and responsible partner in south China, Volkswagen Group China will reduce fuel consumption further than competitors by achieving a fuel consumption reduction of 17 percent in 2009 and 20 percent in 2010.
As part of its commitment to be the best corporate citizen in south China, Volkswagen Group China also imported the world's best powertrain technology to China, and has further promoted the fuel and powertrain strategy.
The CEO noted robust sales are a result of accurate market positioning and an anticipation of future trends.
In 2007, Volkswagen Group China decided to import the efficient TSI 1.4 engine to power many of its models.
Until now, the New Golf has been booked by more than 15,000 buyers, 70 percent of them opting for a 1.4-liter TSI engine. Some 60 percent also took the DSG transmission.
Its successful experience in the Chinese market further encouraged Volkswagen Group to make progress in technology development.
To maintain its growth in a market where GM and Ford Motors are also accelerating expansion, Volkswagen Group in September unveiled a plan to invest 4 billion euros in China from 2009 to 2011 and expand its production capacity and R&D.
Volkswagen Group China has developed a "powertrain strategy" in China, and built around its TSI engines and DSG transmission available on a range of models including the newly launched sixth-generation Golf, the Magotan and Sagitar, made at its joint venture with FAW, as well as the Skoda Octavia and Superb, produced by the group's joint venture with SAIC.
He said the venture with SAIC will produce a new Lavida compact sedan with a 1.4-liter TSI engine and DSG transmission that will be introduced during the Guangzhou Auto Show.