Brassed off
By Chen Nan (China Daily)
Updated: 2007-12-28 08:34
Fed up with lamenting a lack of local musical theater, one performer has set about showing Beijing there is indeed no business like show business. Zhang Aojia, who goes by the stage name Shadow, has tasted Broadway, studying musical theater in the United States before going on to play several seasons in Chicago-based productions.
But since returning to China at the end of 2003, Shadow found few opportunities to flex her creative muscles, and so set up her own contemporary performing arts company.
To build up the local scene, Shadow has put on more than 100 free shows for audiences at the 798 Arts Zone, where she opened the Modern Shadow Musical Workshop. She also used this base to train young performers.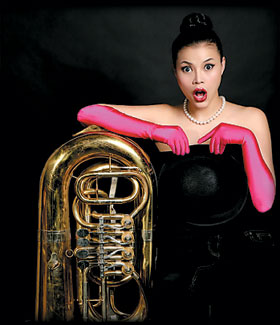 From December 29 to 30, fans can catch Shadow presenting her one-woman show, Shadow of Broadway - Broadway Hits Music Concert, backed up by the Symphony Orchestra of China Opera and Dance Drama Theater, with guest piano accompaniment Shai from Israel, at Beijing Concert Hall.
Over two hours, the striking chanteuse performs 20-some hit songs from popular musicals, such as My Funny Valentine from Babies in Arms, Memory from Cats, Live for the One I Love from Notre-Dame de Paris, Don't Cry for Me Argentina from Evita and Music of the Night from The Phantom of the Opera.
During the rehearsal, the Shanghai-born entertainer talks about her life in the US and China, her dreams, her love for music and even pokes fun at herself.
"I love musicals and love to perform musical theater. Although it is not that popular in China and the conditions for musical performers are pretty hard, I would never give up and will try my best to promote it," Shadow says.
Shadow graduated from Shanghai International Studies University with two Bachelor's degrees - one in Chinese Language and Literature, and the other in English Language and Literature. Because she was blessed with an exotic look - she is of Spanish ancestry - and terrific talent, the stage was a natural place for her career path to lead.
She took vocal classes at the Shanghai Conservatory of Music, and in 1999 went to California State University's Music Department as a visiting scholar. Shadow went on to study Drama and Musical Theater Performance at the University of California, Berkeley and Roosevelt University in Chicago. She appeared in various performances at Schubert Theater, Steppen Wolfe Theater and Second City Theater in Chicago before coming home.
"The history of musicals is fascinating and complex in Western countries, but it is still a new form of art in China," she says. "I am from Shanghai, where people are eager to accept new things from abroad. When I came to Beijing, I realized that the city is creative instead of simply imitating, which fits my style. So, I am getting used to the environment quickly."
Having danced and sung since age 6 opened her to performing onstage. She enjoys using a collection of wigs, tight jeans and high heels to express her personality.
"I am born to be a singer, so I am confident and proud of myself," she says. "I hope I can sing the Olympic theme song in front of the world."
But this queen of hearts is also a jack-of-all-trades, and music is just one facet of her career.
In 2005, she founded China's first musical organization, the Modern Shadow Musical Workshop in Beijing. She acted in the leading role in the new musical Jin Sha, which debuted in Beijing's Poly Theater in April 2005.
She is also a well-known writer, with columns in several newspapers and magazines, and she has two books published.
"I want to explore and develop the musical industry in China. That is the reason why I am back: Because I am not simply a singer but also a producer, a creator and an artist; creating is my biggest pursuit," she says.
From June 14 to 17 this year, Shadow presented her one-woman show, About Musical, at the Beijing Yingzhibao Theater in Chaoyang District.
Composer Jin Xiang sang Shadow's praises after watching her show last weekend.
"She has received good professional training in the US, sings well and dances well. It's a pity that musicals have a small market in China now, so she has few chances to perform," Jin says.
Building up the workshop and giving free musical performances, Shadow is using her talent to let people know what is musical.
Tickets available through China Ticket Online. 800-810-3721, 64170068; English-language service: 64177845.
(China Daily 12/26/2007 page18)