Family affairs
(China Daily)
Updated: 2007-10-26 08:31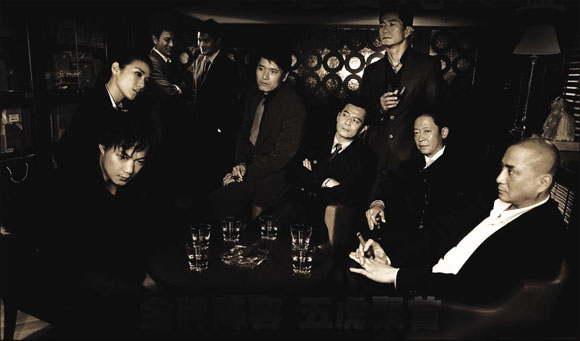 Boasting a star-studded cast with Andy Lau, Michael Miu, Eason Chan, Lam Ka-tung, Wong Yat-Wah and Tong Chun-yap, The Brothers sees the reunion of the Five Tigers except Tony Leung Chiu-wai, going back to their days as TVB station's top actors in the 1980s.
An intense drama on the portrayal of brotherhood, The Brothers depicts the mistrust and feud between two brothers through the eyes of an investigating police officer. Despite their close relationship, Yiu and Shun were separated at a young age due to a decision made by their father. Years later they meet again when the family runs into crisis where Yiu, inspired by his father's last words, manipulates a series of setups which endangers Shun's life, so as to achieve his goal.
Fighting against the triad's illegal activities, police officer Foon (Andy Lau) witnesses numerous brothers turn against one another due to mistrust and suspicion. The old values of righteousness and brotherhood in the gangland have long been replaced by profit and money.
Separated since a young age at their father's (Wang Zhi-min) arrangement, Yiu (Miu Kiu-wai) and Shun (Eason Chan) grew up in different places. Years later, Yiu succeeds his father to become the triad boss. His desire to legitimize the illegal dealings within the gang is met with opposition from Kui (Tong Chun-yip) who carries on with the illegal activities secretly. The crisis brings the two brothers together again. However, a series of setups arranged by Yiu causes Shun to flee to Thailand, accompanied by confidantes Ching (Crystal Huang) and Ghostie (Wong Yat-wah). As Shun is caught between life and death, the trust between the brothers is put to a serious test. When Shun finally realizes the true intention of his brothers, things have already been damaged beyond repair.
This film was conceived as a reunion project for a group of television actors who were termed the Five Tigers back in the 1980s, when Andy Lau, Miu Kiu-wai, Felix Wong Yat-sah, Tony Leung Chiu-wai and Ken Tong were household names from their roles as leading man or memorable villain in popular drama serials. But, in the cinematic world, only two went on to make an impact, with Tony Leung being the arthouse favorite possessing arguably the best acting chops amongst them, and Andy Lau probably being the most industrious.
Director Derek Chiu said the film explores relationships rather than simply being a gangster film. "It's also about the human nature, trust between people, and what happens to them when the trust is collapsed and replaced by fear and suspect," he said.
Worthy of mention is Andy Lau, who is no stranger to police-versus-triad movies. In the Infernal Affairs trilogy, he played a police officer who is also a spy. Lau said he was pleased with the chance to reunite with some of his own "brothers" on this production.
The Brothers is now showing at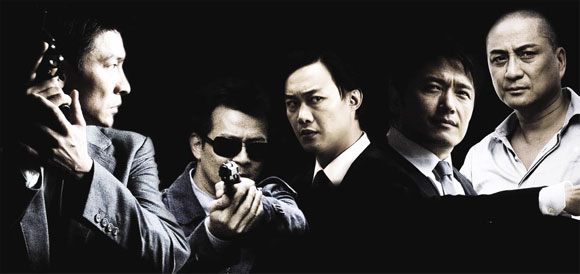 (China Daily 10/24/2007 page7)