Trance with me
(China Daily)
Updated: 2007-09-21 08:10
Dr Chaos and Damien Noir - the dynamic duo known for their hypnotic hijinks - are back in Beijing. After performing for standing-room-only crowds at Tsinghua University last year, the act is seeking to perform for laowai audiences and will give a full hypnotism/comedy show at Starlive on Friday.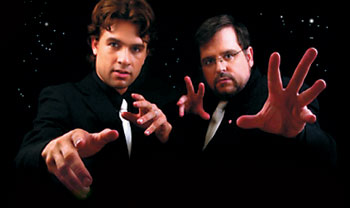 Master hypnotist Dr Chaos (Glenn Alexander) is a certified master practitioner of hypnosis.
He graduated from the Canadian Institute of Ethical Hypnosis and also majored in psychology at the University of British Columbia.
Dr Chaos has appeared on numerous TV shows and has worked as a radio station personality and onstage performer of musical repertory theater.
He is powerfully passionate for performance arts and genuinely loves hypnosis and all of its nuances. The hypnotist is also a widely sought-after motivational speaker who respects with complete integrity the confidentiality of all of his clients.
His clinical practice has offered him the privilege of sharing with his clients many life-changing and truly empowering breakthroughs, he says.
Dr Chaos is thrilled to be able to bring to fruition his vision of The World's First Dual Hypnosis Team.
His partner, Damien Noir, has had a lifelong interest in hypnosis. As a child, he was fascinated by trances and read anything on the subject he could get his hands on.
During his first year at University, he coupled his passion for hypnosis with his study of psychology and discovered much overlap between the two practices.
His employment history is varied and includes stints in broadcasting, construction, nightclubs and marketing.
He brought the myriad skills he cultivated from these varied job experiences into use during his apprenticeship. When the time for ending his apprenticeship drew near, Dr Chaos offered him the opportunity to continue working side-by-side as equals in The World's First Dual Hypnosis Team.
The comedic component of the show comes from audience volunteers who agree to undergo hypnosis ?people such as you, perhaps, if you dare.
100 yuan in advance, 120 yuan at the door. 7:30pm, Sep 22. 79 Hepingli Xijie, southern entrance to Ditan Park. 6425-5677. 和平里西街79号3层, 地坛南门