Beijing Confidential
(China Daily)
Updated: 2007-09-07 08:26
Golden curse
This year's prestigious Hong Kong Bauhinia film awards certainly threw up a few surprises. Not least the three-way tie for the big prize of Best Picture, shared by Exiled, A Battle of Wits and After This Our Exile.
But the bigger shock was Zhang Yimou's blockbuster, Curse of the Golden Flower, failing even to make the list of five nominees for the award, considered one of the most influential in China. Superstar director Zhang's epic is China's official entry in this year's exalted Academy Awards. But despite rave reviews from critics and fans alike, the local Oscar contender apparently failed to significantly impress judges of the 12th Bauhinias.
Still, Curse of the Golden Flower did not go home empty-handed, with mainland darling Gong Li crowned Best Actress for her role at the ceremony in Hong Kong last Saturday.
Hong Kong star Lau Ching-wan won Best Actor Award for My Name Is Fame.
Continuing the exile theme, Johnnie To took home Best Director for his violent crime flick Exiled. Best Supporting Actor went to Ng King-to for his role in After This Our Exile, with the young actor also winning Best New Performer.
Golden Horse-winning actress Zhou Xun won Best Supporting Actress for The Banquet, co-starring with Zhang Ziyi and Daniel Wu.
The Golden Bauhinia Awards were founded by the Hong Kong Film Critics Association (HKFCA) to award Chinese language movies shown in Hong Kong each year.
Pretty boy dishes the skinny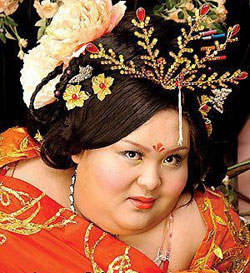 He is famed for his portrayal of a plump ancient Chinese beauty, but now Liu Hui wants rid of his puppy fat. The 26-year-old Chongqing native is better known as Yang Yuhuan, a voluptuous concubine. Liu often showed up in entertainment programs donning the makeup of the Tang Dynasty concubine famed for her full figure.
But he has admitted the fame and fortune he has won is no longer worth bearing the extra weight. Liu is 1.68 meters high, and weighs in at 140kg. "My neck feels tired and my knee joints often hurt. I cannot move fast, neither can I climb stairs or do other sports," he told reporters.
Determined Liu has taken a break from his career, and checked into a weight-loss program at a hospital in Shenzhen. He planned to lose 15-25kg in one year.
Virtual affairs of the heart
An anonymous administrative assistant unwittingly became one of the hottest properties in cyberspace, after her alleged illicit affair with the general manager became public. Multinational company Electrolux was forced into damage control when a series of saucy photographs of Shi Jing were widely distributed online. GM Robert Kugler, 42, had reportedly taken the nude photographs of his young lover during a vacation to Hainan Province. Kugler put the photos into an online album, which contained similar racy pictures of scores of other Chinese women who numbered among his sexual conquests.
The files were hacked into, and the photographs received millions of views within a few days, earning 28-year-old Shi instant celebrity status, her name becoming the most popular search term typed into the Baidu and Google engines. After losing her job, Shi could be contemplating launching a career as a lingerie model.
(China Daily 09/06/2007 page3)