Golden Gao
(China Daily)
Updated: 2007-08-24 08:37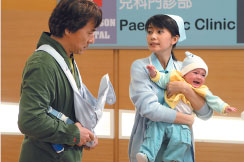 Leading actress Gao Yuanyuan, who starred in the much-acclaimed Shanghai Dreams, will feature in Nanking! Nanking!, a tribute film marking the 70th anniversary of the 1937 Nanjing Massacre. The news was released last week at the opening of a film festival in Beijing . Gao said she would play a common woman with a strong will.
"The biggest challenge for me is how to act as a woman in wartime, since I don't have any relative experiences," she reportedly said.
The film will be directed by Kekexili director Lu Chuan. Gao, 28, has often been mistaken as a newcomer because of her fresh look, but has worked with many of China's critically acclaimed Sixth Generation directors. They include Wang Xiaoshuai's Beijing Bicycle (2001), which won the Silver Bear at the Berlin International film Festival and Shanghai Dreams (2005), which took home the Jury Prize at the 58th Cannes Festival. Other credits included the critically acclaimed Spring Subway (2002) directed by Zhang Yibai and the popular Spicy Love Soup (1997) directed by Zhang Yang.
It was her performance in Shanghai Dreams that caught the eye of Jackie Chan who handpicked her as the leading lady in his action comedy Rob-B-Hood (pictured) last year. She also made her drama debut this April in Chinese avant-garde artist Meng Jinghui's drama Beautiful Encounter.
Chen Nan
(China Daily 08/23/2007 page6)