Doctor Francis Pang, a Canadian educator of Chinese origin, is well familiar with academic ceremony. After all, he has congratulated hundreds of graduates who benefited from his Education for Globalization proposal, a Sino-Canadian education cooperation approved by the Chinese Government in 1994.

But on July 17, it was Dr Pang's turn to be congratulated, as the 56-year-old donned the doctor's gown for the second time in his life. He sat among 60 graduates at the Shanghai Institute of Technology (SIT), awaiting the bestowment of his second doctorate, for his contribution to the global education network.

The honorary doctorate was awarded by Thompson Rivers University (TRU) of Canada, which launched a joint Bachelor's Business Administration (BBA) program with SIT with Dr Pang's help.

"Dr Pang has facilitated numerous academic partnerships between China and TRU as well as other Canadian universities, and his efforts, influence and connections have done much to further Sino-Canadian relations," said Cyndi McLeod, a senior management staff with TRU.

Dr Pang, flashing twin dimples as he smiled on receiving the award, delivered a short speech of acceptance.

"I would like to contribute more to our community and be socially responsible," he said earnestly.

At the graduation reception, Dr Pang talked with every BBA-program graduate, and learned with happiness that all 60 graduates educated within the Canadian and Chinese curricula have found good jobs. He relayed the positive result several times to his own family, who traveled with him to China for the graduation ceremony.

"He seems to care about the students more than our son and daughter," quipped his elegant wife, Angel Pang, looking on bemused as her husband was surrounded by a group of young people. Mrs Pang said he spent nearly six months of each year away from home, furthering his educational projects.

Dr Pang, patting the shoulder of a student who was recruited by a prestigious bank in Shenzhen, introduced her to his daughter Joyce, who works at the same bank. He even offered his daughter's services should the student encounter any future problems.

Born in Hong Kong in 1951, Dr Pang left for Canada to pursue a doctor's degree in sociology. He started his business career in the fields of manufacture, transportation, real estate, and environment protection in China when the country launched its open-door policy and economic reforms in 1980s.

In 1985, he and his wife and two children immigrated to Canada, where he became a resident of Toronto and president of Pang Holdings Ltd.

"For many years, I realized the importance of education, as talents are required in all works of life, especially with the fierce competition at international levels," said Dr Pang.

In 1994, he launched plans to open a joint school, negotiating with Chinese officials and scholars in the educational field. In 1997, Beijing Concord College of Sino-Canada (BCCSC) was finally founded, in line with the new development of senior high and post-secondary education systems in Beijing.

Since then, the concept of offering Canadian education for Chinese students at the senior high school and college levels has been growing rapidly in China, and many Chinese colleges introduced cooperative programs from other foreign colleges.

As the chairman of BCCSC, Dr Pang also oversaw the establishment of Shenzhen Nanshan Concord College of Sino-Canada, the International School of Sino-Canada in Nanshan, and in Shenzhen, the Canadian International School of Beijing, and Constellation College in Toronto.

"Our school adapts the Canadian education credits system, and the advanced teaching method of M.E.T.A. (combining media with education, technology and arts), and students have an academic qualification in both China and Canada," said Dr Pang.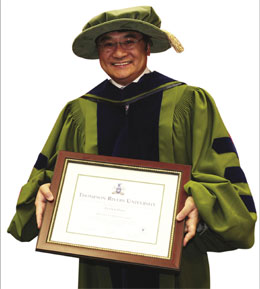 Dr Pang receives his second doctorate in Shanghai Institute of Technology for his contribution to global education. Photos By Lu Zhongqiu
He said the practice of publicly listing students' marks was very discouraging. Instead, good education should provide consultancy and guidance for the students, and cultivate their own way of receiving knowledge.
In the past 10 years, the school has maintained a 100 percent rate of university enrollment, with graduates admitted to top Chinese colleges such as Peking University, Communication University of China, and Tianjin Normal University, as well as more than 11 Canadian colleges, including the University of Toronto. A total of 85 percent of the graduates have received universities entrance scholarships, and every year, several BCCSC students win awards in various international competitions.
Absorbing both Eastern and Western cultures and education systems, as well as constructing a new curricular system in 2003, BCCSC is regarded as the first senior high school to be referenced by the Ministry of Education, with a view to senior high curriculum reform.
"My father gives much of his time to the students," said Dr Pang's tall and handsome son, Charles, who helps his father manage the Canadian International School of Beijing. He was often impressed by his father's patience with the young children, and the demands of their parents.
"Looking from a global perspective, the future of education will be much more integrated as the earth becomes a village, so we should provide a fair platform for our students to develop themselves in advanced education systems," said Dr Pang.
He has received awards from both the Chinese and Canadian governments in recognition of his outstanding achievements and contributions to international education.
Now he is busy setting up another chain college in Shanghai, and plans to also soon open schools in Tibet and Chengdu, with support from the Canadian government. "I want more and more students to know the outside world, through low-cost tuition in their home country, before they pursue studies overseas."
(China Daily 07/25/2007 page18)