Performance
New World sounds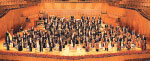 China Philharmonic Orchestra will give a concert with such programs as Smetana's Overture to the Bartered Bride, Liszt's piano concerto and Dvorak's Symphony No 9, From the New World. Conductor: Shinik Hahm. Pianist: Wang Yuja. 50-680 yuan. 7:30pm, May 13. Beijing Concert Hall, 1 Beixinhuajie, Xicheng District. 6605-7006.
Fancy flutes
Musicians of the China National Symphony Orchestra will hold a concert. Program includes Mozart's Flute Concerto in G Major, Haydn's trumpet concerto, as well as works by Chinese composer Chen Qigang. Conductor: Yu Long. Trumpeter: Andre Henry. Soprano: Li Jia, Wang Nan and Sun Xin. 7:30pm, May 20. Poly Theater, Dongsi Shitiao, Chaoyang District. 6506-5345.
Euro influence

The National Orchestra of Lille was founded by Jean Claude Casadesus in 1976 and is now one of the most influential orchestras in France. Born in 1935, Casadesus devotes himself to the orchestra and conducts over 70 concerts each year, including its regular performances in Vienna, New York and London. Programs include Berlioz's Carnival of Rome, Summer Night, Ravel's Tzigane, and other works. 50-380 yuan. 7:30pm, May 19. Forbidden City Concert Hall, in Zhongshan Park, Northwest of Tian'anmen Square. 6559-8285.
From Broadway
The singing and dancing troupe of the Brigham Young University will stage their repertoire Broadway Rhythm. The 90-minute play combines appealing choreography, professional audio effect and active dancing performance. Making its debut in 1970, the troupe has traveled 56 countries around the world. Randy Boothe took the position of artistic director in 1977 and set up the performing style since then. 80-480 yuan. 7:30pm, May 18,19. Poly Theater, Dongsi Shitiao, Chaoyang District. 6506-5345.
Quixote on toes
Highlights of Gisele and Don Quixote will be staged by the National Ballet of China and the cooperation of two French ballerinas Herve Moreau and Aurelie Dupont. Also on stage is French choreographer Kader Belarbi's new creation, Entrelacs, which present his expectations and imaginations. 80-880 yuan. 7:30pm, May 18-20. Tianqiao Theater, 30 Beiwei Lu, Xuanwu District. 8315-6170.
Twisted kitchen

The Spanish drama Beautiful Kitchen is a farce, with the performance language presenting the typical black humor of Spanish art. In the kitchen of a hospice, the waitresses and chefs begin preparations for the upcoming board meeting. Under the direction of the chieftain of the underworld, everything is twisted. Among the noise and quarreling, love and hatred is interwoven. Juan Dolores Caballero is the playwright and director. In Spanish with Chinese subtitles. 30-200 yuan. May 24, 25. 7:30pm. Opera House of People's Liberation Army, 60 Deshengmennei Dajie, Jishuitan, Haidian District. 6406-9999.
Exhibitions
Korea evolves
Fourteen young Korean artists exhibit their works in Beijing. The participating artists have lived through a time of high-speed growth and the trauma of Cold War. They are now confronting the rapidly expanding freedom and complexities of the value system. The artists vividly draw the topography of this transitional period with their discerning language and diverse themes. Free. 10am-5pm, until Jun 30. PKM Gallery Beijing, C46 Art Zone, Caochangdi, Chaoyang District. 8457-8231.

Anxiety in art
Installations, video works and photographs, created by 11 artists including He An, Jiang Zhi and Shi Qing, show their anxiety toward the contemporary art trend. Entitled NONO, the theme of the exhibition is a rejection or a negation. From the surface meaning, it is a rejection. However, the inner implication of the theme is a self-introspection of the contemporary artists. Free. 11am-7pm, until Jun 17. Long March Cultural Transmission Center, 4 Jiuxianqiao Lu, Chaoyang District. 6438-7107.
Early engravings

Precious collection of the engraving works created by artists of the 1930s-1950s unveils the specific flavor of that time. Gathering a number of influential artists, the show provides an overall scene of the Chinese engraving art. Li Qun's works emphasis the detail of light and shade, Li Hua uses simple lines to express the strength of the human body, and Wang Qi is skillful in the curling touches and the presentation of atmosphere. 20 yuan. 9am-5pm, until May 16. National Art Museum of China, 1 Wusi Dajie, Dongcheng District. 6401-7076.
Inner illusions
Veteran Indonesian artist Ma Yongqiang's ink and wash paintings focus on majestic mountains and rivers. With his ancestors coming from China's Fujian Province, Ma, 70, cherishes deep love toward traditional Chinese art since his childhood. In 1993 Ma came to China for a round-country trip and was greatly inspired by the landscape. His paintings record his aspiration and innermost feeling toward the scenery such that they seem much more illusionary than realistic, suggesting his philosophical reflections on the nature, universe, religion and culture. 20 yuan. 9am-5pm, until May 13. National Art Museum of China, 1 Wusi Dajie, Dongcheng District. 6401-7076.

All about me
Young Filipino artist Leslie de Chavez's solo exhibition presents symbolic images of the modern young people with different social status. With exaggerated technique, the figures are busy on their own business, totally absent of one another. Free. 10am-6pm, May 13. Arario Beijing, Jiuchang Art Complex, Beihuqu Lu, Anwai Beiyuan, Chaoyang District. 5202-3800.
Poster boy

Basing on the posters and cartoons Wang Mingxian collected during the "cultural revolution" (1966-76), Wang, art theorist, curator and painter, reproduces the images and events with strong flavor and exaggerates the hint scheme. Wang also recreates some Russian-style landscape oil paintings. Adding the images of landmark Chinese architectures at the far horizon of the scenery, he tries to explain the relationship of the two nations concerning of ideology and cultural conflict during that period. The exhibition gathers his two-decade collection and his own creations. Free. 9am-8pm, until May 16. Wall Art Museum, Sixth Floor of B Beijing Fulllink Plaza, Chaowai Dajie, Chaoyang District. 6588-2202.
Playing the game
A joint show, From Red Land, gathers the oil paintings from four artists: Sha Zhibin, Xu Xinjun, Mao Yiyun and Yang Wenping. Sha's works taps profound meaning of life by simple and repeated images; Xu uses light and shade to present strong three-dimensional effect and cynical flavor; Mao's series, although executed with only one color scheme, conveys rich contents by detail composition; Yang's works disclose the potential danger in the seemingly innocent games of children. Free. 10:30am-6:30pm, until May 16. Rain Gallery, 4 Jiuxianqiao Lu, Chaoyang District. 6432-3274.
Harmony in contradiction
Veteran artist Li Tianyuan meets visitors with a picture and painting exhibition until May 12 at his studio at 798 art district. Li paints and teaches at the Academy of Arts and Design, Qinghua University. Li tries to picture the contradicting forces of the world which helps make our environment look harmonious.
(China Daily 05/09/2007 page12)