When actress Zhang Jingchu (pictured) showed up at the premiere of Protg in Shanghai on February 3, her gold-colored high heels and fashionable white skirt made her shine.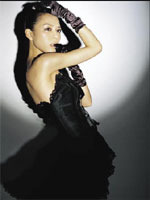 Zhang is a ready-made star. She shows up at fashion parties, walks the red carpet at many international film festivals and has been invited to be the spokeswoman for luxury brands. When she speaks fluent English, the 26-year-old rolls her big eyes and gestures with her arms in a manner that charms even the most cold-hearted.
Zhang ticks all the right boxes and may be on her way to becoming China's next Hollywood star after Gong Li and Zhang Ziyi.
But she insists she is just an ordinary girl who has experienced unexpected things. "I never planned to be a star," she said in an exclusive interview with BJW. "It was just fate." Zhang is currently in Los Angeles, working on the shooting of Jackie Chan's Rush Hour 3.
"So much has happened I didn't expect anything like this," she said. "Life has become quite colorful."
While studying at China's prestigious Central Academy of Drama, Zhang, who majored in directing, had no idea how to act. Watching her classmates dutifully carry out their assignments, Zhang was often overcome with nerves.
"I was so scared," she said. "I had a lot of passion inside me, but I didn't know how to release it and act." But that didn't stop her from being recognized on the international stage. Over the last few years she has swept away a number of competitors to become an actress, and is described as China's hottest rising star.
She was picked from 1,000 applicants for her first role in Peacock (2005), in which she played a petulant, conniving homebound daughter who tries to chart her own course in life. The film, directed by Gu Changwei, won the Silver Bear award at the Berlin Film Festival. After that, she got a role in the martial arts film Seven Swords, which opened the Venice Film Festival in August 2005. Both reveal just how well she can unlock her passion.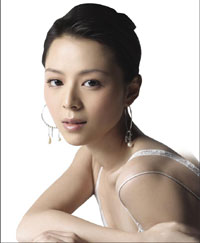 Then came a truly unusual proposal, which saw her playing the heroine in the Finnish kungfu movie Jade Warrior, directed by AJ Annila in 2006.
Zhang's fluent English has undoubtedly helped to propel her from obscurity to stardom. Because some of the scenes for Jade Warrior were shot in southeast China, Zhang noticed that the director really wanted to hear her opinions. "I would discuss my lines with AJ late into the night," she said. "Sometimes the Chinese translations made no sense, so I made some suggestions for improvements."
Last year, Zhang's performance in Chinese director Zhang Jiarui's The Road won her the Best Actress award at the 30th Cairo International Film Festival. She won over the audience with the maturity she shows in her acting, and her extraordinary ability to touch hearts by interpreting the different stages of a Chinese woman's life.
Her recent performance in Hong Kong director Yee Tung-shing's drug smuggling film Protg, again, won praise from both the audience and critics. Zhang plays a woman who takes drugs in order to show her husband that giving up is possible if one is strong-minded. But she fails, and is forced to struggle between drug addiction and herself.
"When I read the script, I knew it would be a challenge. I had to imagine taking drugs and the psychological torture it would cause this woman," she said. "I like taking on a challenge, although I didn't have much confidence at the beginning."
"Everything comes naturally for me," she said. "I'm still a young actress so I'm willing to try out different roles. As long as the roles move me, I'm willing to give them a go."
Though she said she originally had no plans to get into Hollywood, Hollywood, the dreamland for many Chinese actresses, has turned its eyes on her.
In Rush Hour 3, which is still being shot in LA, Zhang plays Soo Yung, daughter of Chinese ambassador Han who is kidnapped in the first installment of the Rush Hour series.
She speaks English in the film, which is a great advantage when compared to tongue-tied Zhang Ziyi, who also made her Hollywood debut in the Rush Hour series. Zhang Ziyi played the villain Hu Li in the second installment, and since that film, Zhang Ziyi has risen to international stardom.
Though she hopes audiences won't compare her performance to Zhang Ziyi's, her casting in Rush Hour 3 will likely intensify the comparison.
Zhang Jingchu said she likes cinematic art films, despite starring in big commercial films. Rush Hour 3 will finish shooting in March and will open in the US on August 20 this year.
Zhang said she planned to stay in LA over Spring Festival and will return to her parent's home in Fujian Province in March.
"I'm lucky to have what I have now and I'm very satisfied," she said. "I won't stereotype myself in terms of acting. I'll follow my heart."
(China Daily 02/14/2007 page18)