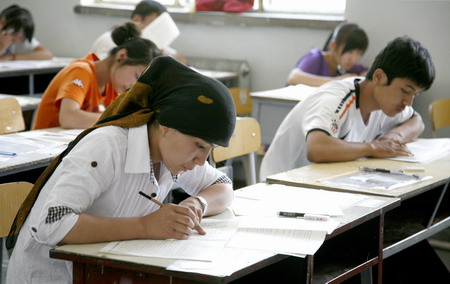 Students take the national college entrance examination in Hami district, Xinjiang Uygur autonomous region, on Monday. [PU LATI / FOR CHINA DAILY]

BEIJING/GUANGZHOU - While 9.57 million Chinese students fight for university seats in the cutthroat national college entrance examination that kicked off on Monday, it is no picnic for their parents, who are on a mission to keep all troubles at bay.
Related readings:


 China tightens security for Gaokao


 Chinese society mobilized for Gaokao battle


 Exam students blog hopes and fears


 Fairness is crucial for the big exam
Ask a candidate's mother, whose car broke down while she was driving her daughter to the No 5 Middle School in Dongcheng district, a Beijing exam center.
"It was 8:10 (am), with just 50 minutes left for the exam to begin. I told myself I must pretend that I am calm so my daughter wouldn't panic," she told China Daily, but did not wish to be named.
Since there were no vacant taxis in sight and she was running out of patience, the woman phoned 110 to ask the police for help. A police car arrived five minutes later.
"This is the first time I've used the police hotline in my life. Thanks to them my daughter made it on time."
But not everyone was as lucky.
Wang Nan, a Beijinger who accompanied his ward to the exam center, said he saw a student arrive at the high school affiliated to the Beijing Normal University just 10 minutes before the exam when he was actually supposed to be at the second high school.
"The student's parents looked pale when the police came forward to give them a ride to the other center. But they must have been late," he said.
Around 3,000 capital police officers are on duty during the two-day national college entrance exam, according to the Beijing Municipal Public Security Bureau.
There are a total of 123 exam spots for the 80,000 examinees in Beijing this year, and every exam spot has at least four to five police officers on duty to maintain order and help candidates who either get stuck in traffic or have forgotten to carry their exam IDs.
Temporary parking places have also been reserved for parents who choose to drop and pick up their wards from the center.
More than 9.57 million students are competing for 6.57 million seats in universities and colleges across the country, according to figures from the Ministry of Education.
With enrollments at 68.7 percent, a 7-percent increase over last year, and a drop of 650,000 in the number of students registering to take the entrance exam, candidates have a better chance of getting into college than in past years.
At the entrance of the No 7 Middle School in Guangzhou, Guangdong province, a mother surnamed Hu waited all morning for her son to finish the exam.
"I did not say a word to my son before the exam. I thought it may affect his mood. But when he came out he seemed happy and relaxed," she said.
Another mother surnamed Chen took a day off from work to accompany her child to the exam center. "I'm nervous, but I try not to show it to my child."
Chen booked a lunch meal at a posh restaurant nearby for her kid to relax after the grueling test.
About 615,000 students are sitting for the exam in the southern province this year. All the exam rooms are equipped with surveillance cameras.
To prevent cheating, more than 120 radio-monitoring stations were mobilized and 40 radio-monitoring vehicles were dispatched.
In quake-hit Yushu Tibetan autonomous prefecture in northwest China's Qinghai province, 1,023 students took the exam in 30 makeshift classrooms made of plastic boards on the playground of Yushu vocational school, Xinhua News Agency reported on Monday, citing Chimed Dorje, head of Yushu's education bureau, as saying.
Only one student was too injured to take the exam, he added.
Situ Chong contributed to this story.