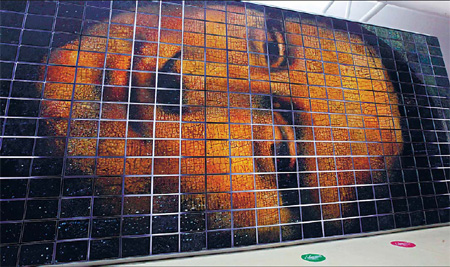 The giant Mona Lisa reproduction has been named Dafen Lisa by the design team. yong kai / china daily
Dafen has village grown into the world center of art reproduction, Li Xinzhu reports.
As copies of the Mona Lisa go, you don't get them much bigger than this. Nor does it usually take so many painters to recreate the masterpiece. And just to make the project even more bizarre, this version of the Mona Lisa sits horizontally on the side of a building.
More than 500 artists from the village of Dafen, near the city of Shenzhen in Guangdong province, created a 43-meter-long by 7-meter-high Mona Lisa in 999 individual paintings, all of which have been set into the faade of the Shenzhen city Case Pavilion in the Urban Best Practices Area (UBPA) of the Expo Garden.
The artwork is one of 16 exhibits brought by Shenzhen city to the Expo 2010 Shanghai to its Case Pavilion in the UBPA - were innovative practices of cities around the world dedicated to improving urban life are on show.
Dafen village has become famous as an artists' village, where thousands of artists toil reproducing famous painting for a worldwide market.
The village was once a typical small urban village in Shenzhen with only 300 people. But all that changed in the late 1980s with the arrival of an art dealer from Hong Kong. The dealer rented houses in the village to store his paintings and began recruiting painters to fill orders from overseas customers for world famous oil paintings .
As orders poured in from around the world, Dafen village boomed. At its peak, over 10,000 artists were at work in the village churning out thousands of Rembrants, Da Vincis, van Goghs and Monets. The local government got involved, introducing art training, improving facilities for the artists and organizing a distribution network. And its efforts paid off handsomely.
The village has over 700 painting studios, an arts training center, and logistics and packaging companies. Its output now accounts for 60 percent of the global oil painting market.
However, voices against duplicating famous paintings have continued and paintings from Dafen village were always considered commercial products rather than art objects. But in recent years local artists have been encouraged to develop their abilities by creating original works.
In 2007, at a cost at 90 million yuan ($13.2 million), an art museum was built in the village, hinting that Dafen has the ability to transform its structure from simply duplicating paintings to creating original works.
Dafen village is now developing as a base for creative art, while still making money through a unique and well-established industry.
Dafen village is also symbolic of the incredible economic progresses made by Shenzhen, which borders Hong Kong, in the 30 years since it was chosen as a special economic zone at the beginning of China's economic reforms. This explains why it was chosen by Shenzhen to represent it during the Expo.
Visitors to the pavilion can track the amazing history of Dafen village and Shenzhen city through 16 exhibits, including multimedia presentations, animations and, of course, paintings.
The giant Mona Lisa reproduction has been named Dafen Lisa by the design team.
"It is not a process of duplicating, but a collaborative creation,"said Zhou Hongmei, director of Shenzhen Case Pavilion design and construction office.
The 999 pieces that make up the Dafen Lisa are individual original art works from Dafen artists, said Zhou. Each piece has its own style and is signed by its creator.
"It is the first time these painters have signed their own names on a painting," Zhou said.
(China Daily 05/21/2010 page35)