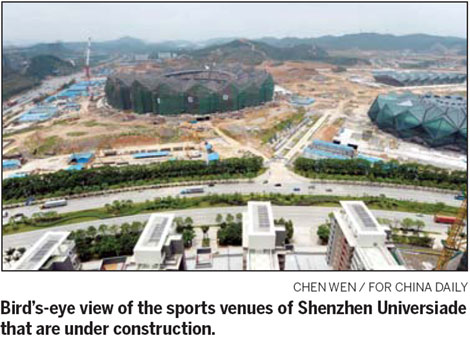 Shenzhen - The southern city will host the next worldwide sports meet for students, the Summer Universiade, and the supervision committee of the International University Sports Federation (FISU), met with the Shenzhen Universiade organizing committee on Thursday to hear how preparations were going.
Different departments of the organizing committee of the 2011 Shenzhen Summer Universiade reported their preparation work. It was the seventh progress report the organizing committee submitted to the FISU. It will be the 26th Summer Universiade and will be held on August 12-23.
FISU's first executive committee conference of 2010 is being held in the city from May 14 to 15, the highest international meeting since the city succeeded in bidding for the Universiade. Nearly 130 people including the president and vice-president of FISU, all the executive committee members, and representatives of several international organizations are attending the conference.
Venues
A total of 68 venues, 44 for competition and 22 for training, and two backup venues, will be used during the Shenzhen Universiade.
And 27 of the venues are located in Longgang district close to the Universiade Center and Athletes' Village, seven in Bao'an district, 13 in Nanshan district, 13 in Futian district, three in Luohu district, three in Yantian district, one in Pingshan district and one in Guangming district.
Also, 22 new venues are still under construction and will be completed at the end of this year. A further 34 venues are being renovated, most renovation work will be finished by this year, but a small number of the renovation projects won't be complete until March 2011. Ten temporary venues will also be built and ready one month prior to the Universiade.
Universiade Village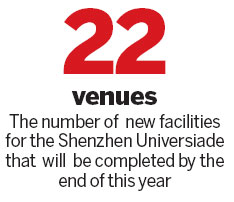 The Universiade' Village is located southwest to the central Longgang district and north of the Universiade Venue Center. Covering an area of 492,000 sq m, the village stretches out 1,171 m from east to west and is 768 m from north to south.
It is expected to accommodate about 13,000 athletes and officials from more than 180 countries. All facilities will hand over to the Shenzhen Institute of Information Technology after the Games.
The main structure of the village was completed in January. The interior decorations and water and electricity will be completed by October. All functional areas will have trial runs from March to June 2011.
Volunteers
The organizing committee plans to recruit 160,000 volunteers, including 20,000 event volunteers, 40,000 city volunteers and 100,000 social volunteers.
The recruitment process started in January. So far 500 volunteers have been recruited, and 50,000 people have applied. Recruiting for volunteers at sports venues will continue until the end of March next year while recruiting for city and social volunteers will be finished in June the same year.
Security
A total of 15 security master plans and hundreds of specific operational programs have been drawn up and will be further tested by a series of trial events. An accreditation card reader machine, X-ray and walk-through devices will be installed to check entries and exits at all times. At the Shenzhen municipal level, ten special duty teams have been set up to deal with terrorist threats.
(China Daily 05/15/2010 page3)