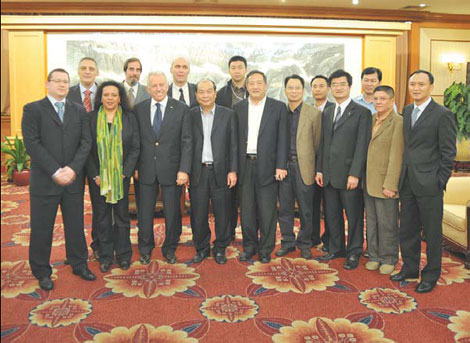 A FISU delegation headed by International Technical Committee Chairman Stavros Douvis (front, third from left) visited Shenzhen and met with Liang Daoxing (front, fourth from left), director of the executive office of the 2011 Universiade organizing committee, and Yang Liguo (front, fifth from left), deputy secretary-general of the organizing committee. Photos Provided to China Daily
The opening and closing ceremonies of Universiade Shenzhen 2011 must win over the audience with "uniqueness and originality" rather than opulence or mere visual experience, said Liang Daoxing, director of the executive office of the organizing committee for Universiade Shenzhen 2011.
His remarks came as winners of public bids for creating the opening and closing ceremonies were announced. The 26th Summer Universiade will be held in Shenzhen from August 12 to 23 next year.
"Innovation is the soul of Shenzhen. Innovation should be one of the criteria for the two important ceremonies and be reflected in every detail," Liang told a press conference.
He noted that influential events like the Guangzhou Asian Games and Shanghai Expo will be staged this year, so the big challenge for Shenzhen will be to make the opening and closing ceremonies impressive.
"Our biggest challenge is how to stand out from these events and fulfill the target of fully demonstrating and promoting Shenzhen," Liang said.
He required production teams to be open-minded while down-to-earth, giving up all fixed concepts and work out a unique plan that could match the "unusual story" of Shenzhen.
Three companies, including the company that participated in the design and organizing of the opening and closing ceremonies of Beijing 2008 Olympic Games, will jointly work on the Universiade events.
The executive office received 11 proposals since public bidding opened last April. Five were selected to enter the final round of competition.
Zhao Guanghua, deputy director of the executive office, said the results were based on the decision of an independent panel of experts.
The three companies will now jointly set up a new company in Shenzhen to be responsible for signing contracts, production and operations, he added.
The opening and closing ceremonies are regarded as the most important cultural activities of an international sporting event.
Starting from 2008, the executive office has invited a number of famous artists and scholars to discuss key issues, including cultural positioning, styles, artistic performances, and finally, to set the proper tone.
(China Daily 04/09/2010 page15)