In Dafen, all roads lead to a central plaza where a statue of Leonardo da Vinci watches over a modern vista of art galleries and studios.
The Italian master is regarded by many as the patron saint of this 405-hectare oil painting village in eastern Shenzhen, which has thrived on selling replicas to the rest of the world. Now, though, he stands over a village in decline.
The global recession, especially in the United States property market, has dealt a major blow to the artists' colony-cum-painting factory, whose works hang on the walls of millions of American homes.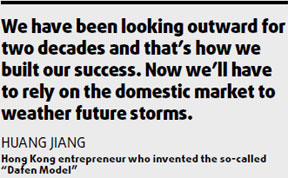 "Most of our export markets are in the US and Europe. In the past, the bulk of the paintings went to big corporate clients, hotels, housing developers and interior designers," says Huang Jiang, a Hong Kong entrepreneur who invented the so-called "Dafen Model" 20 years ago by introducing mass production to painting. "Now that many real estate developments have been halted and all companies are rethinking their budgets, we are seeing an unprecedented loss of business."
Christmas and New Year, usually high season for retailers, offered nothing but disappointment. The usual busloads of tourists were nowhere to be seen and those who did come resisted buying, despite drastic price cuts. "People who have seen their share prices in freefall are in no mood to buy a painting," Huang says.
He says that in its heyday, his company was inundated with orders. "At that time we used to employ more than 1,000 painters and draftsmen," he says. Now, he has had to slash his workforce as orders have slowed from a flow to a trickle. He also has to compete with more than 800 other painting exporters in the village but feels more for the artists if the worldwide downturn continues.
"A company without contracted artists only has to pay its own rental to survive," he says. "But with no commissions and no work to do, the painters would find it really hard to make a living."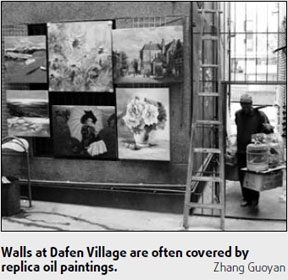 Huang says many artists returned home early for this year's Spring Festival. Others were forced out onto the street.
Like some of his fellow painters, Wu Guoxue rents a wall in one of the village's back alleys, where he works and sells his paintings. "This wall costs me 1,000 yuan ($146) per month - that means I'll have to sell at least three pictures to break even," he says. "It's not easy these days."
As the global economic crisis has pushed this tiny corner of the world to the edge, Huang believes it's time to switch focus from overseas to inside China. "We have been looking outward for two decades and that's how we built our success," he says. "Now we'll have to rely on the domestic market to weather future storms."
Huang, however, reckons that although domestic sales are also down by about 40 percent, it is still far from a doomsday scenario.
"Sales volumes in the Chinese real estate market actually began to drop in 2006," he says. "But the construction boom has kept going on unabated, so there will always be a demand for paintings to fill their rooms."
In the second half of 2008, domestic sales accounted for nearly 80 percent of Dafen's total revenue, with paintings fetching higher prices here than overseas.
(China Daily 01/20/2009 page20)