Number of producers has increased from six in 2004 to more than 70 today
Businessman Xu Zhichun's plans were thrown up in the air when demand for the wind turbine blades his company made suddenly crashed.
The vice-general manager of Tianjin Dongqi Wind Turbine Blade Engineering Co discovered few any longer wanted the 37.5-meter blades that were popular two or three years ago.
"We were caught unprepared," said Xu. "The blades do not work as well as we thought, and we had to step up production of longer blades."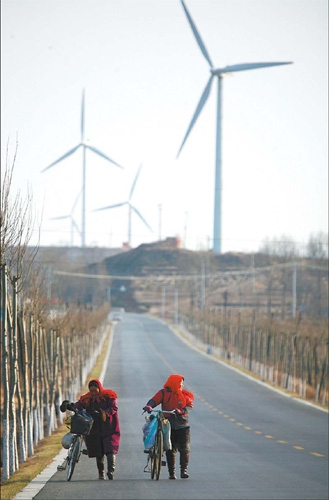 Wind turbines will become a common feature dominating the landscape in some areas. [CFP]
Now the company makes blades that are 40.3 meters long and production rates have been increased to meet demand. "We produced one blade in 36 hours in the past but now we have to make one per day," said an employee in the workshop.
Tianjin Dongqi is a unit under Dongfang Electric Corp (DEC), a major State-owned power equipment manufacturing company. The company is one among many blade-making enterprises, which invested a lot in the 37.5-meter blades but are now faced with a change in demand.
The problem can be traced back to 2007 and 2008 when companies rushed into the wind power industry.
"Many companies didn't have a deep understanding of wind power at that time," said Xu. "And the government, although it drew up favorable policies, didn't come out with a clear plan for the industry."
There were only six wind turbine makers in 2004 across the country. That number increased by more than 10 times to more than 70 last year. Similarly, installed wind power capacity was 760 megawatts (MW) by the end of 2004, and it surged to over 20,000 MW in 2009, making China the third largest wind power market in the world.
Inadequate research and lack of planning has led the industry to expand dramatically but at the expense of quality. Take turbine blades for example. About 70 percent of the blades in the market are 37.5 meters, which are not long enough to generate anticipated electricity levels, according to Xu.
"This echoes what most people call overcapacity," he said. "It's actually excess capacity of products that don't fit the market well."
Radical expansion has brought another problem: makers of both turbines and parts have seen their profits slump in recent years.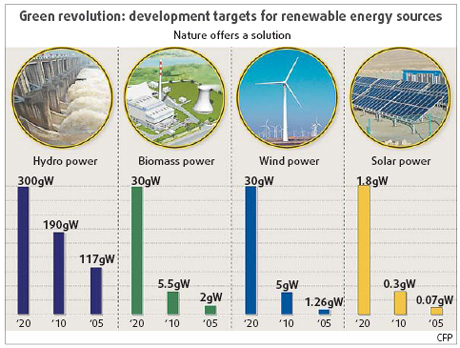 "It's like taking a roller coaster: We are falling all the way from the top to the bottom," said Xu.
Prices of turbine blades have decreased by about one third compared with those in 2004. Profit margins in some companies were 25 to 30 percent in 2004, but now the figures are just about 10 percent, said an industry insider.
"We are not losing money, but not making much profit, either," said Liang Xiaobing, deputy- general manager of Dongfang Electric (Tianjin) Wind Power Technology Co, a turbine-making unit under DEC.
For a 1.5-MW wind power turbine, the price for every kilowatt was around 6,000 yuan at the beginning of 2009, but now it has declined to below 5,000 yuan, said Liang. The decrease in price in the wind power industry is partly due to the fact that some companies, especially small ones, sell their products cheaply at the expense of quality, said some insiders.
Technology upgrade
Some leading Chinese equipment makers that have gained an edge in the market are now stepping up efforts to improve the technology in order to fend off the effects of radical expansion in the wind power industry.
Sinovel Wind Group Co, which has the largest share in the domestic wind power equipment market, is one of them. The company is now building a national offshore wind power technology and equipment research and development (R&D) center, which was approved by the National Energy Administration in January.
The center will conduct studies into technical difficulties challenging offshore wind power development in China. Sinovel aims to develop the center into a world leader.
Sinovel started construction of a manufacturing base for its 5-MW wind turbine in Yancheng city in Jiangsu province in January. The project, with a total investment of 1.5 billion yuan, is expected to come on stream at the end of this year. It will involve the production of 5-MW offshore and near-shore wind turbines.
"Improvement in technology is vital to our future," said Han Junliang, president of Sinovel. "The Chinese wind power industry is in urgent need of advanced technology."
At present among the 70 domestic wind power equipment producers, less than 10 have a large-scale R&D capacity. These companies will form the mainstream of the domestic wind power industry, according to Han.
"As for Sinovel, we aim to become among the world's top three in three years," said Han. Last year the company produced 2,400 1.5-MW turbines and 100 3-MW turbines, making it top in terms of output in China.
"I think the so-called overcapacity just refers to those small players with outdated technology. There will be more consolidation in the domestic wind power sector," he said.
Echoing Han's views, Wu Gang, chairman of Goldwind Science & Technology Ltd, another top wind turbine manufacturer in China, said his company would consider acquiring small firms when the industry enters a consolidation phase.
The company is also looking at markets in the US, Australia, Central Europe and Africa, either by investing in local wind farms or by selling products, said Wu.
"We expect overseas markets to account for 20 to 30 percent of our business over the next three to five years," he said. Goldwind is also focusing more on developing larger wind turbines, including 3- and 5-MW wind turbines, he added
Today Chinese wind turbine producers account for around 70 percent of the domestic market. Some foreign companies are now offering more tailor-made technology to the market in order to achieve further success.
Vestas, the world's leading wind energy company, unveiled a new turbine tailored for the Chinese market, the V60-850 kilowatt turbine, last year. It received its first order for the product from China Datang Renewable Power Co last December.
"China is a unique country with great variations in geography and weather conditions," said Jens Tommerup, president of Vestas China.
"This is why we developed a wind turbine which can deal with such challenges. The fact that Datang has chosen the V60-850 kilowatt shows the need for reliable and proven technology to ensure maximum productivity and a scientific approach to harness the most value out of the wind."
China recently dropped a rule stipulating that more than 70 percent of the wind turbines used in the country must be made domestically. Analysts said the move would trigger more competition in the industry.
More competition
Related readings:


 China's green industry may provide 10% of GDP: report


 Green plans on track, NDRC says


 China launches 1st environment industry fund


 Most Chinese very aware of green issues: China Daily-EDF survey
The move would help the development of the country's wind power industry and establish an open market of rational competition, Chine Business News said in a report, citing a statement sent to local governments by the National Development and Reform Commission, the country's top economic planning agency.
The move will result in fiercer competition between Chinese and foreign companies, but it will also boost cooperation between them, said an analyst who declined to be named.
"This is not a major issue for Vestas," said Andrew Hilton, spokesman for the Danish company in China. "Our global strategy is to produce where we sell, so this development will not have an impact on our production of wind turbines in China."
"Our goal has always been to localize our production as much as possible. The turbines made in our Chinese factories currently consist of more than 80 per cent local content and our goal is to increase this."