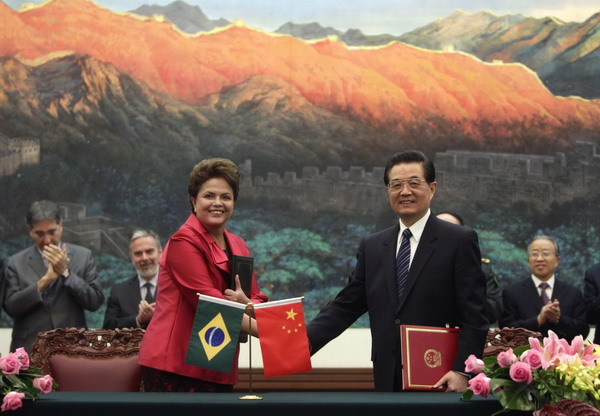 Chinese President Hu Jintao (R) shakes hands with Brazil's President Dilma Rousseff during a signing ceremony at the Great Hall of the People in Beijing, April 12, 2011. [Photo/Agencies]
BEIJING- The presidents of China and Brazil on Tuesday signed a joint communique after talks in Beijing, which said the two countries will continue to promote cooperation in trade and investment.
Speaking positively of the achievements the two countries have scored in trade and economic cooperation, the joint communique said the two sides are satisfied with the fast growth of bilateral trade and two-way investment. The two countries should continue to strengthen dialogues in this regard.
The Chinese side will encourage companies to increase imports of high value-added products from Brazil. Brazil reaffirmed it will rapidly deal with its commitment to recognize China's market economy status according to terms of the two countries' joint action, the joint communique said.
The two countries vowed to expand mutual investment through the cooperation of companies, especially in the high-tech industry, automobile, energy, mining and logistics sectors.
The joint communique also said dialogues between the two countries' companies are of great importance to the development of bilateral trade and an economic relationship, and they will encourage the establishment of partnerships among companies.
The two countries vowed to deepen cooperation in the field of aviation, especially in business jets and regional aircraft, the joint communique said.
The two countries are facing the broad prospect of cooperation in infrastructure construction. Brazil welcomed Chinese companies to bid for its high-speed railways projects. The two sides also thought that a partnership is expected to be established in infrastructure construction for the 2014 World Cup and 2016 Olympic Games, both hosted by Brazil.
The two countries pledged to strengthen dialogue in animal and plant quarantine and food safety. The two sides agreed to promote the registration progress of Brazil's poultry and beef companies, and vowed to fulfill all procedures as soon as possible so as to make Brazil's gelatin, corn, tobacco leaf, bovine embryos, bovine semen and citrus fruits as well as China's pear, apple and citrus fruits into the two sides' imports and exports products lists.
The two countries vowed to strengthen contact between financial institutions and expand their cooperation. They welcomed the establishment of branches of financial institutions within each other. The two sides also vowed to encourage companies to expand two-way investment.
Brazilian President Dilma Rousseff kicked off her six-day state visit to China on Monday. She and President Hu Jintao held talks in the Great of Hall of the People in downtown Beijing on Tuesday afternoon.
Rousseff will also attend the third BRICS summit, a meeting of leaders from Brazil, Russia, India, China and South Africa, and the annual meeting of the Boao Forum for Asia, both slated for mid-April in China's southern island province of Hainan.