BEIJING - Want to witness the beauty of the Great Wall but don't fancy the sharp inclines and bustling tour groups?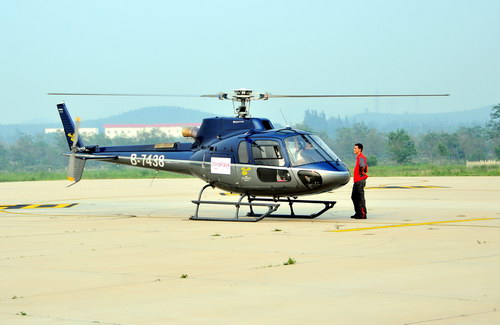 A helicopter prepares to take off at Badaling Airport in Beijing on June 29. Visitors can now have a bird's eye view of the Great Wall from the chopper. [Photo/China Daily]
Sightseers can rise above the crowds and get a bird's eye view of the Badaling section by taking a spin with Capital Helicopter on a single-engine, six-seat AS350B3 Squirrel helicopter. Tours start at Badaling Airport and last about 15 minutes.
"It'd be wonderful to take pictures of the Great Wall from above," said Xi Lei, a 31-year-old Beijing photography fan, after hearing about the tour.
Related readings:


 Journalists start tour on Party history


 Official: Tour agencies should pay deposits


 First group of individual tourists leaves mainland for Taiwan

 Tourists visit new Yingxiu town
However, the cost could be a hurdle for many. On Nuomi.com, a group-purchase website, trips were listed at 1,500 yuan ($232) per person, a 50-percent introductory discount.
For those who can afford it, the tours promise to be five-star flights of fancy, covering the Great Wall and several other scenic spots. 17 people have so far bought tickets through the website since the service was launched last Tuesday and others have contacted the company directly.
"We're taking the opportunity as low-altitude airspace (below 1,000 meters) is gradually opened to move ahead in the private flights market," said Lou Xiaoqiao, marketing manager of the airline, which is a subsidiary of HNA Group.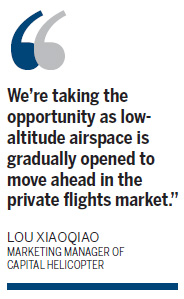 As well as running aerial tours, the company's helicopters are also licensed to perform other activities, such as medical assistance, rescue operations, aerial photography and crop dusting, according to the Civil Aviation Administration of China (CAAC).
Air traffic authorities opened part of the country's strictly controlled low-altitude airspace to private aircraft last October, with more pilot cities to be announced this year.
Li Jiaxiang, head of the CAAC, said in March that the government aims to "thoroughly" open low-altitude airspace across the country by 2015.
Despite the potential market demand created by China's growing number of millionaires, professor Li Xiaojin at the Civil Aviation University of China warned investors there are still many risks.
Most private jets, he explained, are imported with heavy tariffs, which coupled with high fuel prices make private flights an expensive business.
"The market needs to grow larger to support the high cost," he added. As of 2009, China had just 997 privately owned aircraft, compared to 200,000 in the United States.
Xinhua News Agency contributed to this story.