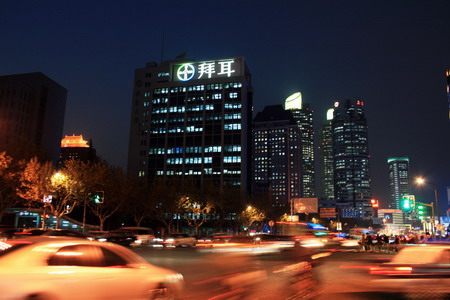 The logo of Bayer AG shines from a high-rise building Meteorology Plaza in the Xuhui district of Shanghai. China is the company's largest market in the Asia-Pacific region. [Photo / Provided to China Daily] 
SHANGHAI - The German pharmaceutical and chemical producer Bayer AG has unveiled plans to double its sales in the Chinese market to 6 billion euros ($8.64 billion) by 2015, a top executive told China Daily on Wednesday in Shanghai.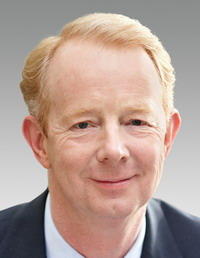 Marijn Dekkers, Bayer AG's management board chairman
"We have very ambitious growth targets for China. Overall, Bayer aims to double its sales in the country from less than 3 billion euros to 6 billion by 2015," said Bayer AG's Management Board Chairman Marijn Dekkers.
China is Bayer's largest market in the Asia-Pacific region, and its third-largest single market globally. China contributes almost 8.3 percent of global sales. In 2010, Bayer generated sales of 2.9 billion euros in China, an increase of almost 40 percent from 2009.
China's urbanization means enormous commercial opportunities in many industries. It's estimated that in 2025 there will be 13 cities with population of 10 million or more people.
"Bayer specializes in healthcare, high-tech materials and innovative crop-protection solutions. We are ready to help provide solutions to these issues," said Dekkers.
As part of the company's efforts to respond quickly to clients' requirements in the rapidly changing business environment, Bayer MaterialScience (BMS), a subgroup of Bayer AG, started the third phase of expansion at its polymer research and development (R&D) center in Shanghai on Wednesday.
The center will develop into a global innovation hub for the company and is scheduled to become operational by the second half of 2012.
Related readings:


 Bayer ups Shanghai investment


 Bayer unit to invest more in China


 Bayer to double China sales


 Bayer to expand in China
"Research is really part of our DNA. It is in our blood and it is a key factor of Bayer's success," said Dekkers, who added that the group expects Bayer's research and development expenditure this year to match 2010's record level of around 3 billion euros.
As part of Bayer's 1 billion euro investment plan in China announced at the end of last year, the expansion of the polymer research and development center is another step forward in a global strategy to get closer to customers in high-growth emerging markets, or China and Asia, to be more specific. Bayer MaterialScience is projected to invest more than 3 billion euros in China by 2016.
"China and Asia are central to our global strategy," said Dekkers. He said the expansion of the R&D facility underscores Bayer's strong commitment to innovation as a foundation for future growth. "Central to this strategy is creating a closer proximity with our customers, ensuring that we are positioned to quickly respond to their needs," he added.
After the expansion, the polymer research and development center will play a full range of roles including solutions-focused offerings for customers in specific industries such as mobility, renewable energy and construction. Its R&D activities will be restructured to focus on specific industries, enabling the center to provide industry-specific solutions.
Bayer's history in China goes back to 1882, when the company first began marketing dyes during China's Qing Dynasty (1644-1911). Currently, Bayer has all its three subgroups in China - Bayer CropScience, Bayer HealthCare and Bayer MaterialScience.