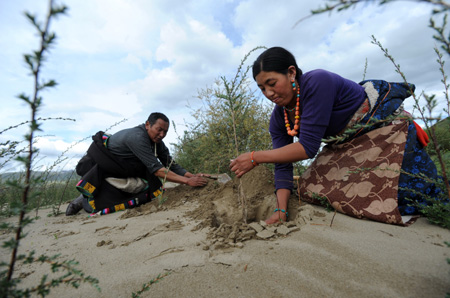 Residents of Maqu county in Northwest China's Gansu province plant brush on land threatened by desertification in June. [Photo/Xinhua]
BEIJING - China faces huge challenges in its fight against desertification, which is haunting more than 27 percent of its total land area and threatens 400 million people's livelihood, a senior official said on Friday, the World Day to Combat Desertification.
The country remains one of world's major sufferers of land degradation and desertification, Zhang Yongli, deputy director of the State Forestry Administration (SFA), said on Friday.
Statistics from the administration show that China has 2.6 million square kilometers of sandy land and desert, only 530,000 sq km of which can be turned into green land. During the past five years, the government has been able to reclaim about 12,400 sq km of arid land as forest or grassland, but the achievement does little help to reverse the trend toward desertification .
Related readings:


 Elion Resources to turn sandy land green


 Warning over desertification


 Water transfer system to end Xinjiang drought


 Desertification affects half of Bolivia

Moreover, the fragile ecosystems, scarce rainfall and pressure of economic development in arid and semi-arid areas have made China's fight against desertification more difficult, Zhang said.
The Kumtag Desert, in Northwest China, is approaching the city of Dunhuang, Gansu province, from three directions at an annual speed of 1 to 4 meters, China Central Television reported on Friday.
The report said that the desert is 3 km from the city of 182,000 at its nearest point and that the city's wetland, Xihu State Reserve, is disappearing.
Desertification also poses environmental hazards for the global community. The United Nations Convention to Combat Desertification estimates that more than 40 percent of the Earth's land area is arid and that 2 billion people live in these areas. It estimated that 10 to 20 percent of the world's arid lands are already degraded.
To strengthen international cooperation on this issue, the SFA, joined by the Ministry of Commerce, launched a high-level symposium about desertification on Friday, and 36 delegates from 13 African countries were invited for the 21-day seminar.
Africa has suffered from desertification since the 1970s, due to the mismanagement of water resources and global climate change, Zalia Boubacar, a representative from the Republic of Niger, said on Friday.
The decline in land productivity it causes has impeded Africa from lifting its people out of poverty and could easily lead to severe food shortages, Boubacar emphasized.
She said it is encouraging that the Chinese government provides a platform for African countries to discuss the problem and try to work out feasible solutions with their Chinese counterparts.
China will speed up the transfer of expertise and technology to African countries and boost cooperation in the fight against desertification under the framework of the China-Africa Cooperation Forum, Jia Zhibang, director of the SFA, was quoted by People's Daily as saying on Friday.