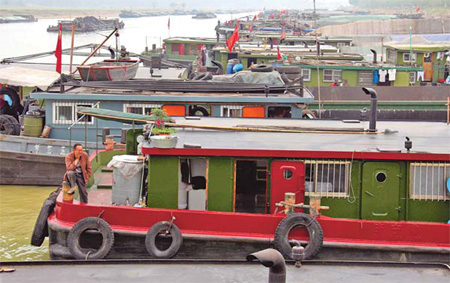 A row of ships waits to pass through a lock of the Zaozhuang section of the Beijing-Hangzhou Grand Canal in East China's Shandong province on Sunday. Severe drought has caused congestion in the river and has led to many vessels running aground. [Photo / China Daily]
Provinces in lower reaches may continue to be thirsty
Wuhan - About 5 billion cubic meters of water will be discharged from the Three Gorges Dam over the next 20 days to ease the severe drought in the middle and lower reaches of the Yangtze River.
"But the water is still not enough to irrigate the thirsty farmland in Hubei province." Wang Jingquan, a senior official of the flood control and drought relief office affiliated to the Yangtze River Water Resources Committee, told China Daily.
About 1.86 billion cu m of water were released from May 1 to May 17, and the country's top drought relief authority has asked for even more water to be discharged.
With the accelerating discharge, the water level in the world's largest dam has fallen to about 153 meters.
Related readings:


 Three Gorges Dam's first power unit starts operation


 Three Gorges vows to rectify financial issues


 Dam discharges more water to battle drought

 Three Gorges increases release to ease drought

"But all the discharged water can only reach areas along the Jingjiang section of the Yangtze River, meaning drought situation in three places in the central part in Hubei - Shishou, Gong'an and Songzi - will be relieved to some degree. The far lower reach of the river can only get very limited benefits," Wang said.
The Three Gorges Dam was designed to play a large role in flood control, power generation and waterway transport. But the Office of State Flood Control and Drought Relief Headquarters decided to include drought control as a new task due to the severe drought this year, according to Wang.
The top drought relief authority suggested that dam administrators should discharge water when levels downstream fall below a certain standard, but the details haven't been made public.
A statement released by the State Council on May 16 said, "The Three Gorges Dam needs to address some urgent problems, such as stabilizing and improving living standards of the relocated people, protecting the environment and preventing geological disasters in the basin."
Some people have blamed the dam as partially causing the recent severe drought in Central China.
"We cannot blame the dam for all the problems happening in the middle and lower reaches of the Yangtze River. All man-made projects have some impact on nature," Lu Yaoru, a geologist and academician of Chinese Academy of Engineering, was quote by the Shanghai-based Oriental Morning Post as saying.
Zhou Lihua contributed to this story.