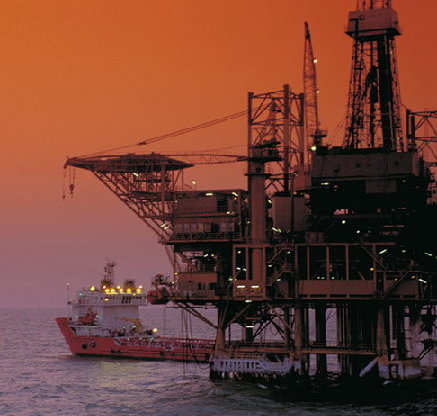 The Penglai 19-3 oilfield in Bohai Bay, China's biggest offshore oil discovery. The field began its first production in December 2002 with production of 18,000 barrels a day. [Photo/Agencies]
BEIJING - The US oil and gas energy company ConocoPhillips Co expects the Penglai 19-3 field in Bohai Bay, China's biggest offshore oil discovery, to reach a production peak this year of more than 150,000 barrels daily, said a top company executive.
"Penglai 19-3 is a milestone project for us. Billions of dollars have been invested in developing the mega oilfield," Georg Storaker, president of ConocoPhillips China, told China Daily.
He added that it might take more than 30 years to deplete the field.
Related readings:


 China buys, sells less oil in April


 Oil prices a worry for Asian neighbors


 China's shipping sector suffers from overcapacity, high oil price


 Oil price rebounds
ConocoPhillips China, which operates the block, said production at the oilfield will decline quickly, if there is no further drilling and no maintenance of the existing wells.
However, the company has plans to slow the decline by drilling additional wells and ensuring that existing wells continue to produce oil well into the future.
Further development of areas adjacent to the field is planned and will provide additional production capacity, the company said.
The Penglai field, located in northeast China, was discovered in 1999. China National Offshore Oil Corporation (CNOOC) owns a 51 percent equity interest while ConocoPhillips China holds the remaining 49 percent equity interest, and is the operator.
The development of the field started in April 2002 with the first phase of commercial drilling.
It had its first production in December of the same year, with production of 18,000 barrels a day.
The oilfield's seventh and latest production platform was put into operation last month, ConocoPhillips said.
Storaker said ConocoPhillips' capital investment in phase two of the Penglai 19-3 field development project is near completion.
"What we're doing now is ensuring that we get into safe, stable and sound operations," he said.
As for the company's participation in China's under-development deep-water exploration, in which ConocoPhillips has technological expertise, the US-based company has expressed interest even though it has no such project in China at present.
"We're always interested in deep-water projects, and are always monitoring (potential projects)," Storaker said, adding that in addition to the South China Sea, more areas can expect to see drilling activities in deep waters.
CNOOC, ConocoPhillips' co-investor in the Penglai project, is the biggest offshore oil company in China by oil production and has pledged to pump billions of yuan into the deep-water-related business after generating more than 50 million tons of oil equivalent in 2010.
CNOOC has targeted production of another 50 million tons of oil equivalent from deep-water sources by 2020.
ConocoPhillips' rivals - Chevron Corp and BP PLC - have teamed up with CNOOC to develop some of the deep-water resources in the South China Sea blocks.
By contrast, ConocoPhillips is focusing on the natural gas sector in China.
The company expects to participate in the production and distribution of natural gas within China, given the huge potential demand based on the nation's population and the country's efforts to cut carbon emissions.