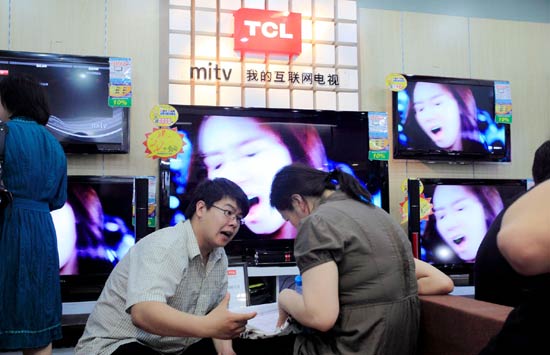 Customers selecting TCL Televisions at a store in Beijing. A source says TCL Communication Technology Holdings is likely to postpone its Taiwan listing plan and may also reduce the size of any subsequent offer. [Photo/ China Daily]
A company source says the handset maker will wait for a better climate
TAIPEI - The Chinese mainland handset maker TCL Communication Technology Holdings will put its Taiwan listing plan on hold amid recent poor market sentiment. The company may also reduce the size of any offer, a source told Reuters on Tuesday.
In December, TCL announced a plan to issue up to 217 million Taiwan Depositary Receipts (TDRs). In March it said the issue would be the equivalent of up to 10 percent of its outstanding shares, with an application to the regulators around May.
The source said on Tuesday that the company remains interested in a TDR listing, but is waiting to see how market conditions turn out before making a final decision. Any future listing was likely to be around 5 percent or less of its total outstanding shares, he said.
The source declined to be identified because he was not authorized to speak to the media.
Related readings:


 TCL eyes LCD TVs to boost its bottom line


 TCL to add Samsung into the picture


 TCL sees better sales prospects in Asia


 TCL sets its sights overseas

"We don't need the money, we wanted to list in Taiwan to enhance our branding platform because it is a hub for the tech industry," said the source, adding that the company now holds HK$1.3 billion ($167.2 million) in cash.
"But we're quite disappointed about the recent performance of TDRs."
LCD display and wireless communication technology firm SIM Technology Group, the most recent TDR listing, fell the daily maximum of 6.7 percent on its debut in late April.
Dukang Distillers, a Chinese mainland liquor maker, slipped 3.5 percent on its Taiwan debut in March.
Taiwan's bourse has been counting on increasing the number of TDR issuers as it looks to boost its profile and position itself as a funding hub in Asia, drawing listings from overseas firms attracted by its deepening economic ties with the mainland.
It has said it expects the number of overseas companies issuing TDRs to increase to 20 this year from 12 in 2010.
The TCL source said the company will consider the Taiwan IPO again only when it sees more satisfactory TDR debut and when its Hong Kong-traded shares rise further.
"HTC is trading around 18 times price-to-earnings, but TCL is trading around 10," said the source, referring to the top smartphone maker HTC Corp, whose shares have surged in recent months on strong demand for its phones.
Shares of TCL have dropped 13 percent since it announced its TDR plan, compared with a 0.3 percent rise in Hong Kong's benchmark index.
Reuters