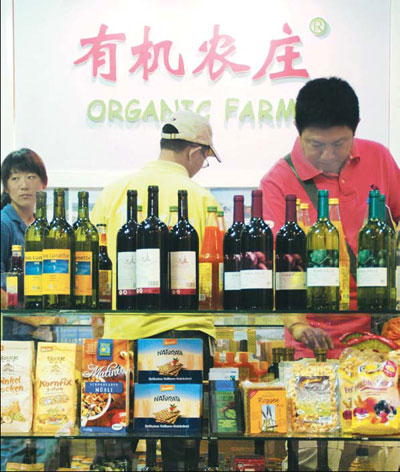 Customers examine organic food products at a recent food expo in Beijing. Despite the rise in sales, China's organic food market is still facing an uphill challenge in a country where farmers are used to pesticides and chemical fertilizers to boost production. [Photo / China Daily] 
Regulation is a big challenge for retailers seeking top quality goods
BEIJING - A tiny sector in China - organic and natural food - is benefiting from the middle- to upper-income, health-conscious consumer and overseas returnees but misinformation, lax regulations and questionable business practices are proving to be major stumbling blocks.
At LohaoCity Organic Store, sales have been growing at an average rate of 35 percent year-on-year. There are eight outlets in Beijing, six in Shenzhen, four in Chengdu and one each in Guangzhou and Tianjin.
Plans are afoot to set up more outlets in different parts of China but it's a daily challenge to ensure all produce from its suppliers is free from chemical and other life-threatening ingredients.
Related readings:


 Food safety concerns drive Chinese back to the farm


 A taste for organic agriculture

 Organic vegetables gaining ground


 Food becomes a hot issue in China
"Our position is clear: We require our suppliers to be certified by the central government agency (China Green Food Development Center). We do not accept certification by municipal or provincial governments," said Terry Wu, general manager at LohaoCity Organic Store.
Foods from suppliers are put through stringent quality control by LohaoCity's purchasing department, which will also ensure clear labeling in accordance with local and international standards.
A clause in the purchase contract also ensures suppliers sign a guarantee to comply with China's organic regulations.
"If they (the suppliers) can carry out this commitment, we'll stand beside their products. As retailers, we have to be responsible to our consumers," said Wu.
"In a nutshell, it's really about trust. If there's no real policy at the national level, where should consumers go? Retailers, suppliers and consumers have to develop trust. And consumers need to educate themselves to make wise decisions. There's hope, however."
Wu spoke about a recent trip to Germany where he attended a food safety conference at which there was a sizable presence of Chinese companies involved in organic farming.
"There will always be a few bad eggs but that shouldn't stop good work," he said.
Food safety scandals, where industrial oils, acid, cancer-causing chemicals and heavy metal ingredients were found in some food products also help to divert more sales to organic and natural produce.
Despite the rise in sales, China's organic food market is still facing an uphill challenge in a country where farmers are used to pesticides and chemical fertilizers to beef up production and to keep weeds at bay, which usually means less hard work.
While there is demand for organic, natural food, it is still uncommon to find it in the marketplace and the difficulty in locating reliable organic farmers or suppliers affects supply and demand.
Community-supported agriculture (CSA), in which a farmer offers a certain number of "shares" to the public, is seen as a workable idea. Membership involves receiving a box of seasonal vegetables every week for a year.
Based on the CSA model, Little Donkey Farm, which is Renmin University's demonstration project, has successfully cultivated quality foods with the support of the public.
In 2010, Little Donkey Farm had 500 "shares". This amounted to 5 kilograms of vegetables a week for each shareholder. It costs 1,500 yuan ($273) for a year's subscription. Shareholders also pay for seeds, tools and irrigation.
According to Shi Yan, a representative from Renmin University who is involved in Little Donkey Farm, the challenge is to get more small farmers to adopt the CSA model.
"Consumers should be better informed about seasonal food. The natural way of growing food means there will be certain foods that will not be available in certain seasons such as winter, when it's difficult to grow tomatoes," she said.
Vegetables from Little Donkey Farm cost between 10 and 15 yuan a kilo. Organic vegetables in supermarkets are priced between 30 and 40 yuan a kilo. Non-organic vegetables can cost anything from 5 to 10 yuan a kilo, according to Shi.
While debates rages on how best to make a profit from organic farming, Shi said the natural method of farming yields more benefits in the long term.
"At the beginning, farm production will decline when farmers switch to organic fertilizer. However, three to four years later, farmers will find the quantity will increase and there will be no need for fertilizer by then," she said.