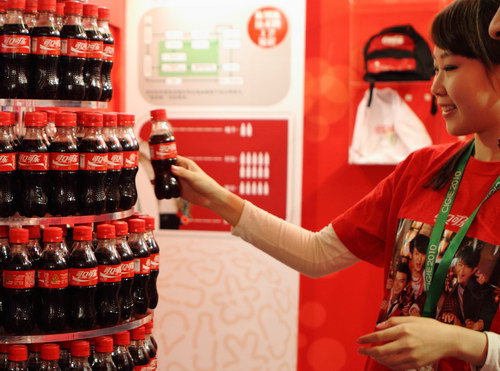 Coca-Cola displays its environmentally friendly bottles at an international green technology exhibition in Beijing. China is Coca-Cola's third-largest market, after the United States and Mexico. [Photo/China Daily]
ATLANTA, Georgia - For Coca-Cola Co, a brand that has a presence in more than 200 countries worldwide, one thing remains: vision. And after 125 years, the beverage company continues to expand its presence globally.
A few days ahead of Sunday's anniversary, President and CEO, Muhtar Kent, shared the company's 20/20 vision with more than 100 journalists.
In 2008, Kent met 45 top global bottlers and created a roadmap for his company. A number of key goals were outlined for the company to achieve by 2020, including doubling its system revenue while increasing system margins.
Kent said an additional 1 billion people are expected to enter the global middle class by that time.
Related readings:


 China approves coke futures trading


 Is it the real thing? Again, Coke says no


 Coca-Cola Co sees fizz in China


 Coca-Cola to maintain China growth fizz
"(It's) the greatest economic history, if you like, and more than 60 percent of this new wealth for this particular purpose will be from the emerging nations," he said, adding that massive urbanization is taking place all over the world.
Kent sees great potential in all emerging markets, and not just the BRICS nations (Brazil, Russia, India, China and South Africa).
He expects Indonesia, Turkey, Morocco, and Vietnam to contribute to the massive shift.
China is Coca-Cola's third-largest market, after the United States and Mexico. The company's vision for China, which has a rapidly growing consumer market that many experts say is far from saturated, includes investment of $2 billion over the next three years.
During his 2010 visit to Hohhot in the Inner Mongolia autonomous region, to announce progress on three new bottling plants in China (worth $240 million), Kent was impressed by the dynamic nature of the city.
He spoke to local people, from shopkeepers to government officials, and the company's vision for the emerging markets was confirmed.
"I got the sense that they are people who believe in their community - a community with tremendous promise, and they want Coca-Cola to be part of it," he said. "It was like the atmosphere at a FIFA World Cup match. It was something I will not forget for a long while."
The company's sales in China rose 6 percent in 2010, despite a 3 percent drop in the fourth quarter, compared with the same period in the previous year.
But Kent thinks the long-term plan is on the right track and he is happy with the projections about the Chinese market.
The company's orange drink, Minute Maid Pulpy, which was first launched in China five years ago, is becoming more popular across the world, he said.
"(It's) the first billion-dollar brand we have that has emerged out of China. So, that gives you a signal about the progress in China, which we are very happy about," he said.
Kent has confidence in the Chinese market and thinks it has the potential to become the company's largest, but he can't forecast when that will happen.
"I am not here to predict when China will continue its rapid rise (for Coke) and which year that will happen. But it will happen and it will continue to grow faster," he said.
The beverage company may be about to celebrate its 125 anniversary, but Kent believes it is a 125-year 'young' enterprise "in a state of constant renewal and dynamic growth".
"In a way, we are just getting started," he said.